Why I Didn't Sell My Former Site + 5 Other Important Topics I Covered At Empowerher17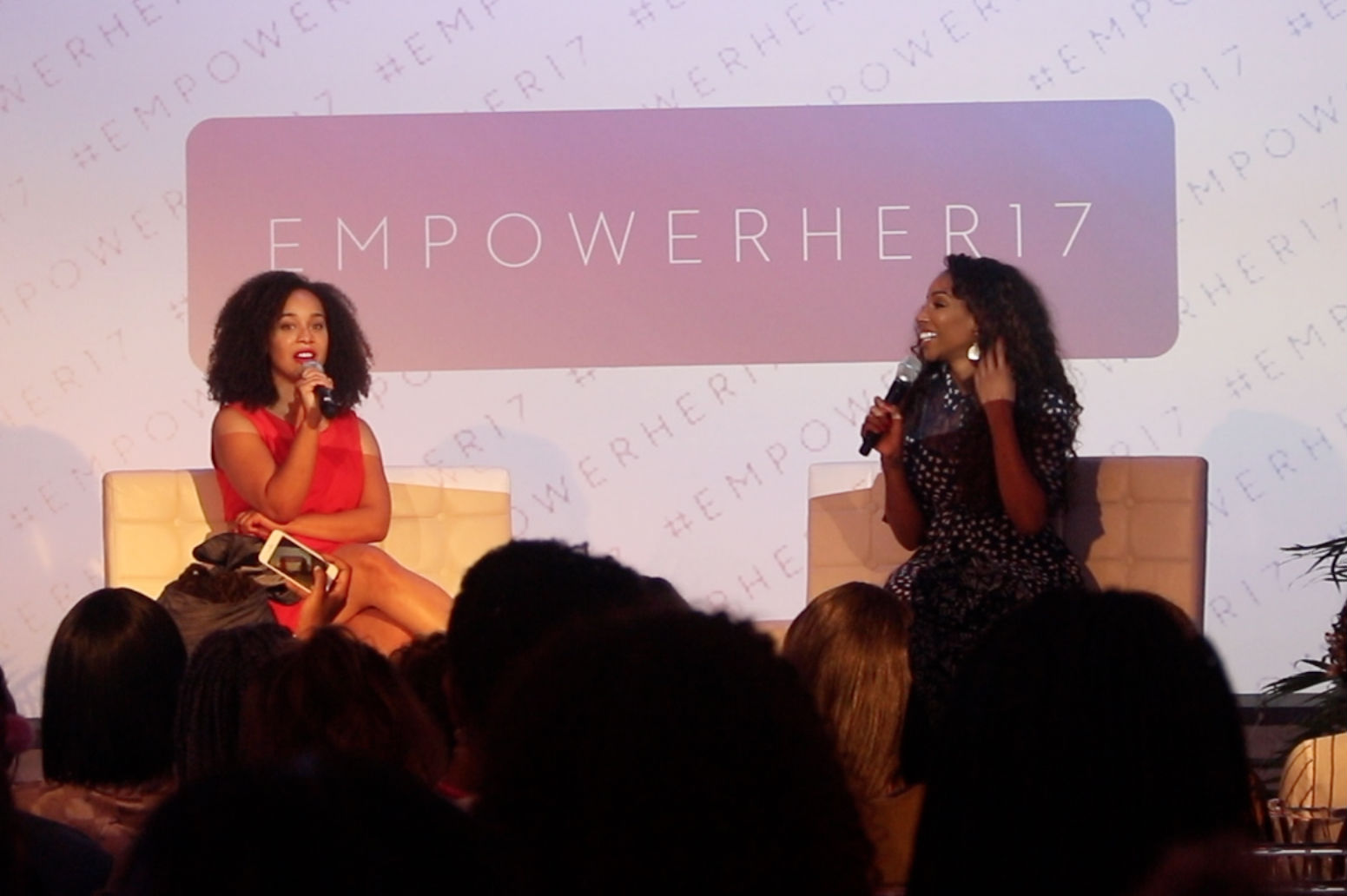 There are things, people, places and events that change you.
EmpowerHer17 was that event for me.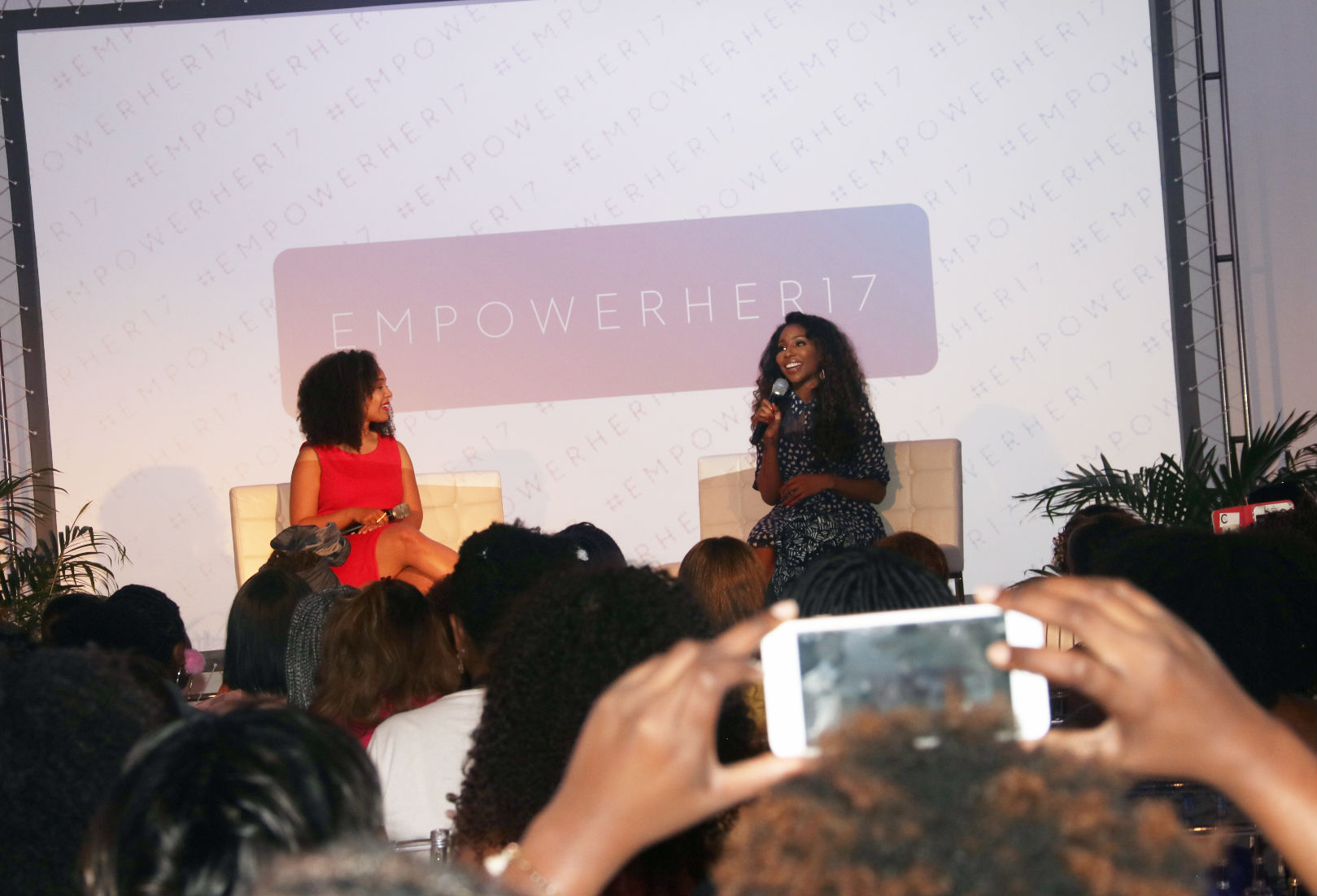 This year, the 2-day conference was hosted in Chicago and brought together a room of more than 300 women who were there to inspire, network and hear insightful career advice from black millennial business women, entrepreneurs and influencers.  The conference was hosted by Gia Peppers and included appearances and insight from everyone like Zim Ugochukwu of Travel Noire, to actress/producer Lena Waithe, blogger/author Luvvie Ajayi,  and Allied Moxy SVP Erika Bennett.
Back in March, Blavity founder Morgan Debaun reached out to me to ask if I'd appear at the conference, and my first response was that I didn't feel comfortable doing a keynote or even speaking at the conference because I was still knee-deep in my transition. I hadn't fully reached my personal goals when it came to my new xoNecole website, and I was still in a state of laying low and doing the dirty work quietly while I patiently built my brand.
I'm a huge believer that every season won't be your season.  
There are some seasons that you sit out, and plant your seeds and there are others were you harvest. 
I was still in my planting season.
I was also going through a personal transition behind-the-scenes as well.  I was toying with the idea of venturing into Health & Fitness after winning two trophies in my first ever fitness competition.  Training for the competitions as well as educating friends and loved ones on healthier, lifesaving eating habits had become a huge passion of mine and I felt as though God was leading me into a new territory.  I was studying to become Board Certified in Holistic Nutrition, as well as Wellness Coaching and I was pretty happy.  I was actually elated. New doors and opportunities were opening for me and I knew at some point I had to make a decision on if I still wanted to run and expand the xoNecole brand on my own, or if I was going to hand it off to someone else and take yet another leap in the pursuit of happiness and living my dreams.
But there was still this urge and fire in me to leave my shell and get out in front of my audience. Participating in the conference would give me the opportunity to engage with my readers and people who have been following me a long time face-to-face and get their feedback. I needed that energy and so I accepted the invitation.
I'm glad I did.  Speaking at the conference moved me.
Talking to the women who had tears in their eyes as they told me how much they resonated with my story, admired my transition and needed my transparency moved me.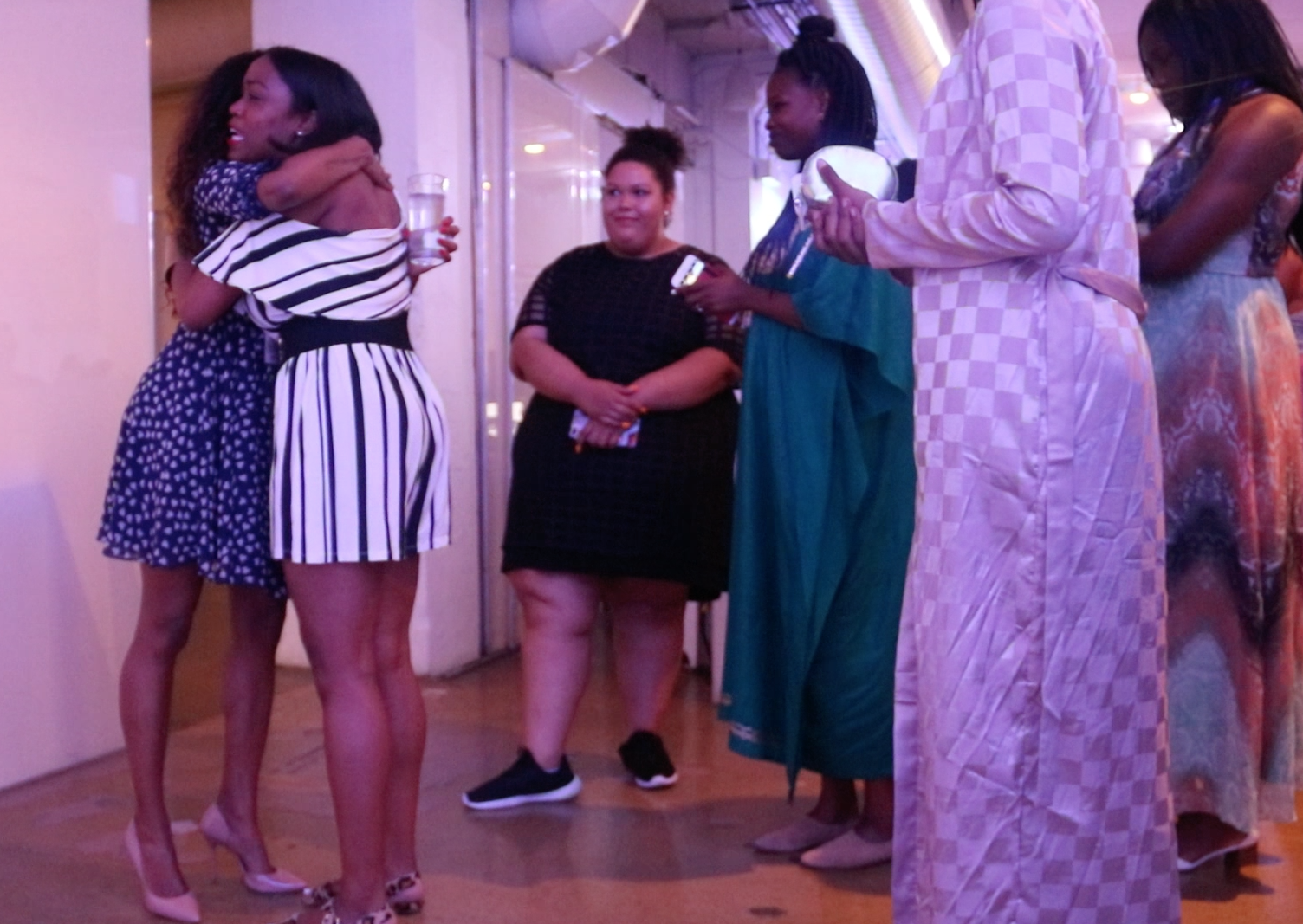 I needed that.
Sometimes we need to be reminded of the work we do and the affect it has on others, to keep pushing.
That's what the conference did for me.
Here are 6 important questions and topics that people may have had that I answered during the fireside chat:
Why I Left My Gossip Brand
It was time.
When you settle into just existing in a space, it's time to move on.
7 is the number of completion and I was inching towards my eighth year. I was no longer the woman I was when I started the brand and I was no longer interested in most of the news and topics we were covering. I had lost my fire. I had lost my passion and my readers could sense it.  The longer I continued to run the site and keep up with those things that I was outgrowing, it would continue to stunt my growth as a woman.
The truth is, when your career is to report breaking news on other people's lives, you end up subconsciously living your own life as a spectator. I always hear the saying, "you are what you consume", and since I was consuming celebrity gossip, violence, drama, divorces, suicides and very negative news every hour of the day, I was becoming that. It was in conflict with the person I wanted to be.
I remember being so filled with angst, depression and anxiety all of the time and I thought it was because I had experienced so many deaths in my family. When I finally sought a therapist, she revealed that I had second hand PTSD from the news we were reporting.  That was eye-opening to me. I had to wonder if it had that type of effect on me, what effect was the news we were publishing having on the site's visitors?
Once I realized this, I knew I would have to let go of my old brand if I honestly wanted to live a fulfilling life full of joy, happiness and love. As most woman desire once they are in their 30s, I wanted balance. I wanted to nurture my friendships and have time to enjoy weddings, birthdays and baby showers. I wanted to be able to unplug for a few days without the fear of missing something or falling off. I wanted to be present in the presence of people I cared about dearly versus having to check my phone every few minutes.  Finally, I wanted to launch a site that was the vitamin my audience didn't know they needed. One full of inspiration, empowering stories and career advice to help my readers live their best lives.  That's what I wanted my legacy to be able and I do feel xoNecole.com has and is still accomplishing that.
Why I didn't sell NecoleBitchie.com
In 2013, before the site reached it's peak, I was negotiating a $1.3 -2 million deal to sell my brand to a well-known media company. I didn't really entertain the offer for too long because at the time the fact that I built the brand from the bottom up meant more to me than a million dollar paycheck and I knew there was so much more work to do to get it to a place where it wasn't just known for "salacious gossip."  A few years later, I remember reaching out to one of my friends who had sold her site for advice and I will never forget what she told me. She said:
"I wish I had sold for more.  When anyone comes to you with an offer, believe that you are worth 2-3 times as much as that initial offer. You have to know your worth. After taxes, paying out lawyers and business managers, those checks won't last long but your brand and your legacy is what can last forever."
That always stuck with me.  I eventually closed NecoleBitchie.com versus selling it because I knew that if I sold it, I would no longer have control over that particular brand's content or legacy. As long as the site stayed up and running on the web, I'd always be known as the personality behind it and that was counterproductive to my growth and the places I wanted to go as I continued to evolve in my life.
How I still push on in the face of adversity after losing both of my parents
My mom was a staple in my life when it came to picking up the phone and having someone I could talk to. Before she died, I was calling her to catch up every single day on my lunch break at work. The last time I ever talked to her on the phone, I remember asking her "Are you going to die?" and she fell silent. In that moment, all the petty things I used to stress over no longer mattered. She was 41 at the time of her death (my father was 42).   The concept of "Life is short" is very real to me.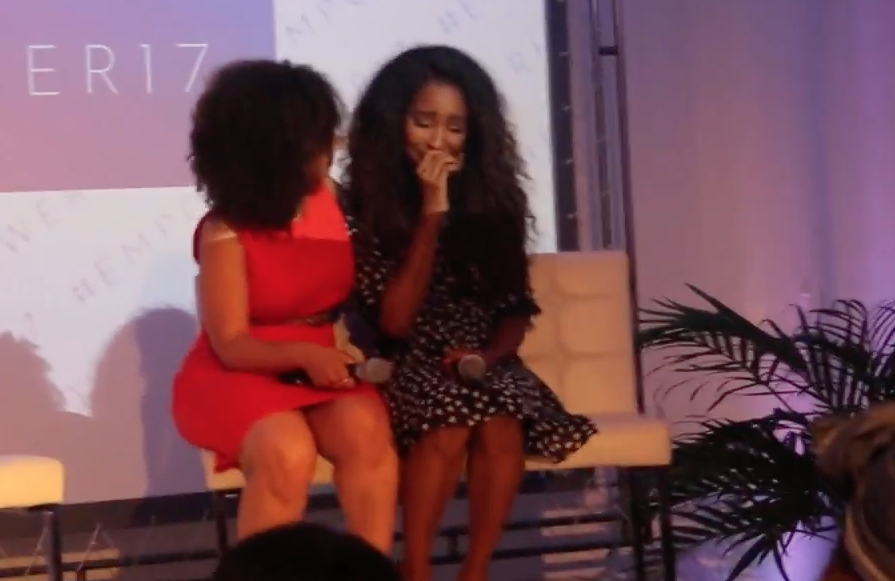 At the conference, I cried as I revealed for the first time ever that it hurts me the most that my parents never had the chance to see me be successful.  While they were alive, I was moving from house to house, staying with different friends, sleeping on couches, trying to finish school, dabbling into different interests and really trying to find myself.  To achieve success and not be able to share that with loved ones has been excruciating.  It's been one of the root causes when I fall into stages of depression. I think there is a sense of guilt there, like I had to do a trade off in life and sometimes I feel it's extremely unfair.  But I know that things happen for a reason and I try not to dwell on the "why me?"
Moving back home doesn't always mean you've failed
Before I started NecoleBitchie.com, I was dead broke, the IRS had frozen my bank account due to some back taxes and I had no choice but to move back to my hometown and live with an aunt.   One of the audience members revealed that she recently found herself in the same situation, and she wanted to know how I was able to stay positive and still have enough hope to get myself out of that situation and eventually achieve success.
A lot of people equate moving back home and returning to the place you started as failure. I no longer look at it that way. Sometimes you need to take a few steps backwards to regroup, re-strategize and push forward and sometimes going back home is the best option for you to get back on your feet.  Last year, I was consulting a fellow blogger that had moved to LA and each day she spent commuting to a job she hated was pushing her further and further from her dream. She felt as though all of her goals were impossible.  We both agreed that her moving back to the East Coast would probably be the best decision, and within a 9 month period, she relaunched her website, wrote a few e-books, traveled to 3 countries, and was being booked for speaking engagements around the country. Giving herself permission to go back home and regroup, helped her to get back in alignment with her passions and propel herself into the next level of her career.
I always tell people when moving back home, give yourself a time period.
If you know that you only want to be home for six months, you will move differently and start taking the necessary steps to map out a plan to get you out of there in those 6 months. I didn't have a time frame in mind when I first went home so my aunt did the best thing she could have ever done for me, and gave me one.   Just as my brand was growing a little, she told me I could only stay for another month and I was devastated. I left that weekend and moved to Atlanta where I slept on a friend's couch and my career started to take off.  I am now mature enough to know that her kicking me out was not personal. As much as it may have hurt her, she was removing the crutch from underneathe of me so that I had no choice but to be uncomfortable and walk on my own two feet. I probably wouldn't be here if she hadn't made that tough decision.
Sacrifices and Discomfort Are Only Temporary
This wasn't really a question but an add on to the young lady who had to move back home recently.  Having to move back home, sleep on couches, borrow money and those type of things are all temporary if you are extremely focused on accomplishing your dreams. The problem with temporary, is having the patience and faith to know that things will work out without really knowing when it will happen. Whatever you have to give up and sacrifice for your dream, you have to trust and believe that it will be restored in due time.  I made it a point at the conference to reveal that I had recently made the decision to move back to New York. I've lived in NYC three times already and have never been comfortable living there ever but it's the sacrifice I'm willing to make for the goals I have for my brand. I also made it a point to reveal that even though I have a loft I love in Arizona, my dream car (that was on my 2009 vision board and is completely paid off), and I live a very comfortable lifestyle, it's important that I sell my furniture, car, and most of my things before I leave.
Sometimes on the path of success we accumulate all of these material things that we think matter, and realize how much of a burden they are when we want to maneuver freely and chase new levels.  
Please understand, when you achieve success, you are not the car you drive, amazing house you live in, and clothes you wear.  You are your legacy and you have to decide what that is going to be. Nobody is gonna talk about any of the stuff you own in your eulogy at your funeral when you are no longer here. Instead they will talk about the impact you had on their lives.
It's okay to unplug and take a break
We are currently in a social media obsessed culture were people feel as though if they aren't constantly sharing pieces of their day, and themselves, that people will forget about them. The same goes for the entertainment industry and the thriving market of influencers who've built social media based brands. It may be tempting to attend every party, and post photos with celebs or other people with huge followings in order to feel relevant but at some point it will become a bit counterproductive if there isn't other work being done to grow your business or brand.  If you are at every event, or constantly on social media sharing your life or plugging into everyone else's lives, when do you have time to create? When do you have time to be inspired? When do you have time to do meaningful purposeful work that means something?
And sometimes you need to take a break period.
I learned this the hard way when I transitioned out of NecoleBitchie.com and I rushed to launch xoNecole.com six weeks later.  Instead of taking months or even a year or two to rest, gather my thoughts, live in my moments and then really map out the new site and produce really great work, I just rushed into launching something else in fear that I would lose my audience or they would forget about me.  The end result was chaos, stress and I lost a lot of money. A TON of money.
Although we were mapped out the content, hired editors and writers, and figured out how we would market the new brand, I don't think we fully thought through how the site would gain revenue since we weren't a part of a network and launched with no in-house sales team.  Do I regret the decision? No, I don't…because sometimes you just have to say 'f-ck it' and take the leap and figure it out later, however, I do think we could have planned the launch of the site just a little better.
7 months after we launched, I eventually downsized my staff, regrouped, refocused and restrategized. When updating the site with new features, we focused more on quality over quantity, and instead of seeking out writers for the site, I started focusing on everyday women who had empowering stories to tell.
I also took a year off of doing speaking engagements, appearances and industry events so that I could work on self-care, travel, compete in fitness competitions and slow down and live a little.
As I stated at the conference:
I'm in a happier space now and I feel like I'm ready to get back out there, create, expand my brand and thrive!  The best part of it all is that I'm viewing the world through a completely different lens.
______________________________________________________________
That was the gist of my 60 minute chat at Empowerher17 (although I have elaborated a little more here 🙂 )
Thank you guys for reading!
I highly recommend investing in attending at least one conference a year if you are serious about learning from people in your field as well as growing your network. Don't forget your business cards and keep in touch with your contacts. (I'm still working on this!) Something beautiful may come from it.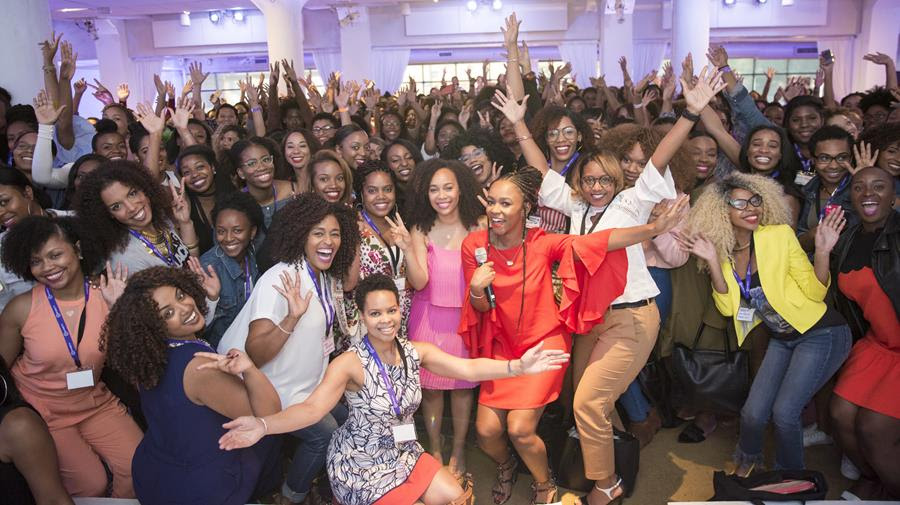 Below is video and pics from EMPOWERHER17:

Highlights from my fireside chat
A great recap courtesy of Aquillia Mikel of Rebrand Chicago
Keep in touch with me!  Instagram: @hellonecole | Twitter @hellonecole