What I learned From My Night Out With The Cast of 'Think Like A Man'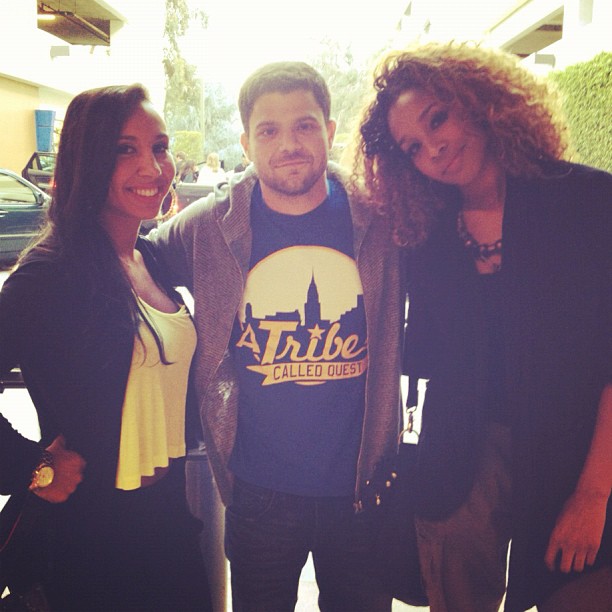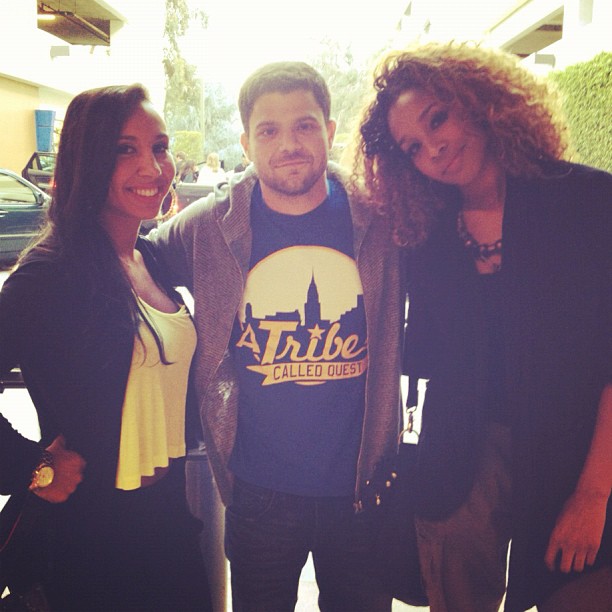 A few weeks ago, my friend Fallon and I had the opportunity to do some theater runs with the Cast of 'Think Like A Man'.  It was a Saturday, and I had just seen the film so I was super excited about not only meeting the cast but also seeing the reactions to the many fans that came out to watch the movie.
We were told to meet at Universal City Walk and from there we would go to four additional theaters throughout the night.  We were early (which is rare for me..I'm really trying to get off this CP Time folks joke about) so we started filming some atmosphere shots in the meantime and introduced ourselves to the security crew that was waiting outside so that they wouldn't think we were some crazed fans.   Jerry Ferraro was the first to arrive and since he was solo, we made our way over to him to break the ice. I told him that I had no idea he was 'TURTLE (from Entourage)' while watching the film and that he looked amazing. [Jerry has dropped a lot of weight since the early days of Entourage].  He was incredibly down to earth and revealed that he was waiting on a call to see if he was going to get the part in a new film and with 'Think Like A Man' raking in $12 million during opening day, he was hoping it increased his chances. (Hopefully he got the part).
Michael Ealy was the second to arrive. He stepped out of his car with a very cool swagger (he had on shades) and immediately started introducing himself to security and then he began chatting with Jerry. Michael definitely ignored us at first…like blatantly, but I wrote it off as him being somewhat socially awkward.  There are people who just don't feel comfortable around folks they don't know (I AM one of them) and instead of speaking they wait until someone else in the room to make an intro (which Jerry did not). After about five minutes of awkwardness, I looked up and Michael was staring directly at me and he said, 'How are you doing'.  I said, 'I'm doing great, do you remember me?'. He said, 'Yes, New York!' referencing the fact that we had met at the premiere in New York City. At this point, I was thinking, 'why in the world did we just go through this five minutes of awkwardness'
From that point, we went inside with the Screen Gems rep, did some mini interviews with Michael and Jerry to loosen them up a bit to the fact that we would be around for the rest of the night and everything went great.  During, the second stop, which was the Grove, Meagan Good and Regina Hall joined us.  Meagan Good is such a sweetheart, she was glowing and you could tell she was still on a high from her engagement to Devon Franklin, a Columbia Pictures VP and Pastor. She's like the girlfriend in your head.  A 30 year old woman coming into her own.
Now, The Grove was my least favorite spot. They didn't turn the lights on during the introduction of the cast so the theater patrons couldn't really see anything. It was a little disappointing but Regina, Michael and Meagan were good spirits about it. (At this point Jerry had to run to another event).
The last two theaters were in Baldwin Hills (the other slips my mind) and it was just Meagan and Michael on those runs.  The crowds at those theaters were crunk and super excited about the surprise. They spoke and took pictures with every single person that came up to them at those theaters and the fans loved it.  I saw a few readers from my site at those stops and some of them joked with me about, Michael Ealy.  To give you a little back story, I would always talk about how beautiful Michael Ealy was on the blog (I mean who doesn't??? the man is gorgeous) but I never thought I'd have to spend four hours working with him or I definitely would have chilled out on that. It was probably an awkward situation for the both of us lol.
Which leads me back to the point of this whole entire story:
'It's so easy to fall in love with Characters'
There was a post on Michael Ealy on my celebrity blog the other day and someone asked, 'Does anyone ever wonder what is wrong with him? He's 38, single, no kids etc' which I do agree there is a double standard. Folks are making such a big deal about women in their 30's who are never married and have no kids like there is something wrong with us. There is nothing wrong with us and there is nothing wrong with a man who is that age that hasn't 'settled down' yet, with the keyword being 'Settled'.
Michael Ealy, unfortunately is an actor, and what happens with actors is that people fall in love with their characters instead of the real person.  When Michael walked up to Universal City Walk, he wasn't the 'Dominic' that I had fell in love with the night before while watching 'Think Like A Man'.  He wasn't the 'Dreamer' but in my mind, that's what I had imagined him to be which probably was the main source of the awkwardness that occurred within the first five minutes of our meeting.  I can imagine how much harder it is for him to date. The same goes for his ex, Halle Berry. She was the postergirl for Beauty when I was growing up and was plastered on many men's walls. In their mind, she was perfection, but guess what.. Halle isn't perfection. She has the same issues as most women but her issues are now magnified because before then, people's expectations of what they thought she was was so huge, it was impossible for her to meet them.  They were in love with Halle Berry, the actress…the overly gorgeous woman on their television screens.. but did they really know Halle Berry, the woman.
More times than not, we fall in love with the idea of a person. The idea that you have of what you want them to be. The potential. Unfortunately, when reality strikes and that person isn't what you had imagined, you are disappointed. That doesn't make Halle a bad person ..and it definitely doesn't make Michael Ealy one. (might I add, he loosened up as the night progressed and he's really an all around amazing person. Just cautious (as he should be), an observer (he's a people watcher who notices the little things like shoes (he inquired about mine), women who insist on shopping with their puppies (I had to explain to him that women do this because it's somewhat of a fashion statement which was super funny after I suggested he get a small dog to attract girls –not that he needs any help –he thought the suggestion was crazy.. i tried. ). He's also an observer of actions. He watches carefully things that a person says and does to grasp their personality and character and while he is observing, he may be quiet (which can be confused as standoffish), but he's a really really great dude.
Unfortunately for him, when most women meet him, they may be expecting to meet one of his characters (with the exception of the guy who threw the kids out of the window in 'For Colored Girls' ) and that's a hard pill to swallow.  That could be the very reason, your favorite beautiful actor is still single.  (and there is nothing wrong with that 😉 )
Check out a few really cool pics from the theater stops
Meagan, Regina Hall and Michael Ealy doing a funny skit at The Grove
And a few cool videos 🙂

Thanks to my wonderful friends Fallon Mercedes and Patrick Neree for filming and editing 🙂