ATVing + A Few Cool Things To Do In Vegas Other Than Partying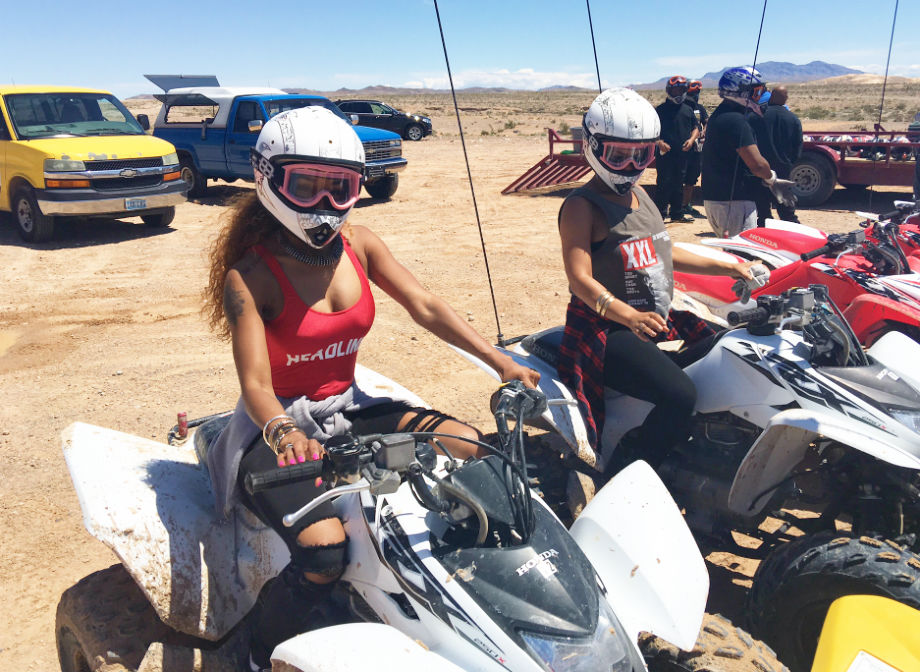 Years ago, if you were to ask me to go to Sin City to unwind, I would have thought you were crazy!
Seriously!
As a matter of fact, I hated Vegas.  With a passion.
As someone who isn't a heavy drinker, gambler, or party until the sun comes up type of person, I felt as though that city had no place for me.
That's until my last visit.
While on the brink of a serious burn out, I took a much needed road trip to Vegas a few weeks ago to catch up with my managing editor Kiah, and I ended up having one of the best times ever. I've been on a serious self-care kick lately and I had to first open my mind to the idea that Vegas could be relaxing….which was challenging. But it ended up being just what I needed to regroup, and re-energize so that I could increase productivity at work.
The trip was good to me, and on my last day I was thankful to snag a $95 Airbnb at the MGM Signature which put me away from the crowds, the gamblers and insanity on the strip (although I could see and hear how jumping the Wet Republic pool party was at the MGM grand.)
The highlight of the weekend was a 2-hour ATV Tour through the desert and it was absolutely exhilarating.  Nothing else mattered during that 120 minutes as I jetted across the sand with the group, and I even challenged myself to hit the heels and slopes.
I've ridden ATV's in Cabo and Dubai (it's my favorite thing to do when traveling), but Vegas by far was the best experience.  I plan to return again this year and try the scenic tour which is about 3 hours, and includes lunch as well as views of the Colorado River and Hoover Dam.
Catch a few of the pics below:
I'd like to mention that it was 77-80 degrees the entire weekend which is perfect Vegas weather.  Most people flock to Vegas during the Summer months and the weather is normally over 100 degrees and stuffy.  The best months to go for great weather are between March & May, and late early October -November. 
Other awesome activities to experience in Vegas (other than turning up)
Helicopter tour of the Vegas Skyline (check groupon for deals — we used Skyline Helicopter Tours)
ATV Tours ( This is the one we did and I LOVED it.  I'd check groupons for 2 for 1 deals. My only gripe with this company is the website says that they take cards, but I saw them pressuring people to pay in cash once they arrived — when companies do this I sometimes think the people on staff are pocketing the money or running scams )
A Discovery Tour Of The Hoover Dam (will pick up from your hotel)
Another option is Las Vegas Off Road Adventures ($99 a person, no hidden fees & They pick you up from your hotel — I haven't tried this one but I'm sure it's amazing)
Fountain of Bellagio Light Show (FREE)
This is something I want to muster up the courage to do when I go back.  The tower is the tallest free standing tower in the U.S and at the top, there is an observation deck, and rides that include bungy jumping off of the building (um…I love my life way too much) and an attraction called Insanity that dangles riders off of the side of the building.  I saw this ride from afar and was literally gagging. It didn't help that I found out the ride had a malfunction years ago which left riders hanging off of the building for over an hour.
Woot! Maybe one day.
The moral of this story is every travel experience is different and what you make it.  Sometimes winging a trip is great, but when you have a list of things you want to do and accomplish, plan ahead of time, and budget…the experience will end up so much better. 
What's your favorite things to do, places to eat, etc in Vegas?