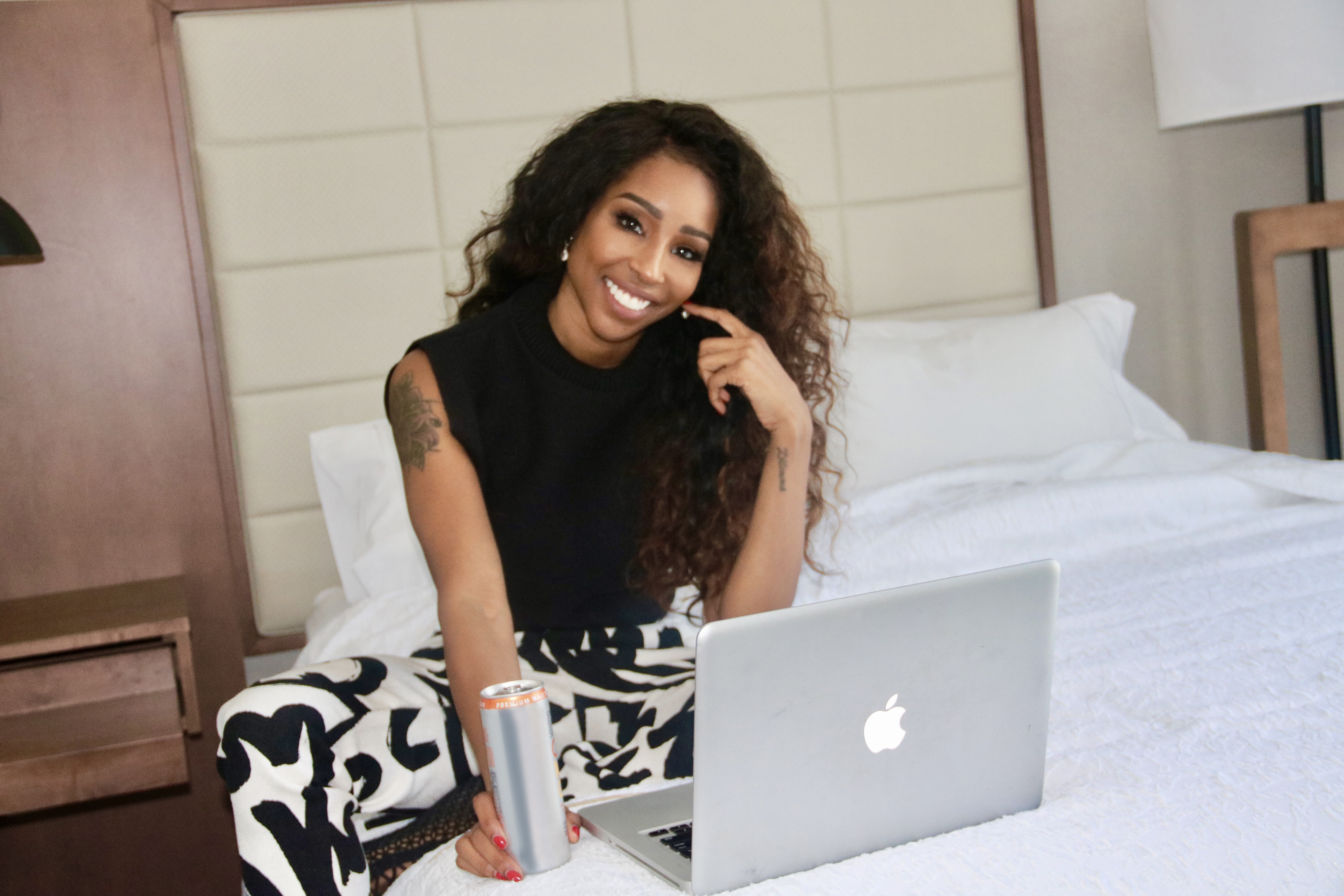 ________________________________________________________________________________
They say the best way to find your own path is to get lost on your present one. No one is a better example of that than Necole Kane. Today the blogger/entrepreneur sits in the driver's seat of a burgeoning empire, which includes the women's lifestyle blog, xoNecole.com (formerly NecoleBitchie.com).
Though Necole's online persona, Necole Bitchie, made its debut onto the blogging scene in 2008, the motivation behind building her brand really began when she was a child growing up in a small town on the Eastern Shore of Maryland, spending her free time daydreaming, creating movies in her mind and writing books that were never finished. In college she majored in Television & Film with a hope of becoming the next Mara Brock Akil or female John Singleton.
Shortly after Necole's father passed away, and two years later her mother followed, she felt lost, uninspired and came down with a terrible case of writer's block. Looking for a fresh start she moved to Detroit and began an internship with a radio station as a producer; her first taste of working in entertainment. Six months later she was hired as the Assistant Marketing Director/Promotions Coordinator where she was introduced to marketing and brand strategizing and the importance of building a branding platform. After music executive Lyor Cohen visited the radio station and gave a presentation on his artists at Warner Music Group, a light bulb came on for Necole: she would work for a record label.
The young entrepreneur hopeful quit her job, moved to New York City, and interviewed with numerous record labels and management companies, but her lack of experience kept her from nabbing the job of her dreams. By the summer of 2007, a frustrated Necole made the decision that she would never send out another resume, and she never did. Unfortunately, however, by the beginning of 2008 Necole found herself broke and forced to move in with her aunt.
Necole recalls, "I was in a situation where I felt like I had lost everything while trying to take risks. My career. Money. My parents. I was devastated."
 She was back in the small town where she was raised where the two most viable employees were Wal-Mart and a pickle plant, and Necole was sure that her entertainment industry dreams were over. After getting her hands on the popular self-help book The Secret, Necole decided she had no time for self-pity. What she needed was a plan so she concluded, "There is a lack of jobs in the industry, so I'm going to create my own." Seeing a lack of coverage in urban entertainment, Necole Bitchie was born as she began reporting on the world of celebrity entertainment and new music while blogging some of her personal experiences as well.
Though her following on her website grew quickly, a new challenge emerged: unable to understand why Necole spent the majority of her time on the internet versus looking for employment, her Aunt kicked her out, leading her to Atlanta, completely alone again to figure out how to make it work.
While sleeping on friends couches, Necole was able to make a name for herself on the Atlanta scene fairly quickly by covering the hottest events in the city, and interviewing celebrities. Within a year, NecoleBitchie.com became one of the leading and fastest growing Urban Gossip Sites on the internet, attracting readers, advertisers and such esteemed outlets as The Huffington Post, Cosmopolitan, The Baltimore Sun, CNN, The Boston Globe, Global Grind, VIBE and BET. She was being courted by the very industry that had once rejected her. Now, her accolades include Black Enterprise's Black Blogger of the Month, Soul Train Music Award For Best Soul Site, the Black Weblog Awards Best Gossip Blog and Blogger Of The Year honors, Ebony Magazine's Power 100, being the first Blogger to appear on BET's 106th and Park, all while being featured in Sister 2 Sister, Essence, J'Adore, Rolling Out, The Huffington Post, The Tom Joyner Morning Show, The Breakfast Club Morning Show and more.
Through it all, Necole exemplifies what it means to gain control of one's self through self-determination, self-motivation, self-reliance, and self-promotion. More important than any of her accomplishments, however, is Necole's focus on making sure people, especially young girls, find inspiration in her story and feel empowered to live their best lives. This desire led to her decision to close her award-winning gossip blog in July 2015 stating in a letter to her readers:  "There is a constant internal struggle between being a character—Necole Bitchie—when I walk out in public, and being the woman I know I was meant to be." 
Read her goodbye letter here.  
In September 2015, Necole launched xoNecole, a women lifestyle platform which encouraged and empowered young women to share their stories.  Evolving from celebrity and entertainment news, the site's mission was to promote positive images of woman of color, as well as empower, educate, and inspire millennials through beauty, fashion, lifestyle, career and travel features.  In September 2017, the website was acquired by producer Will Packer and his company Will Packer Media. While breaking the news of the acquisition to Variety Magazine, he revealed:
"It fits perfectly with what I'm doing with my company. I was looking for someone I could partner with who has a highly engaged audience and speaks authentically to them. Necole is amazingly gifted in her ability to connect with women and deliver much-needed engaging, smart and empowering content that is aspirational and impactful.  I want to be aligned with someone like Necole. She's had ups and downs, but she's a survivor and a fighter. She's also vulnerable and admits her shortcomings."
Necole is currently still serving her post as Editor In Chief at xoNecole.com, and is working with Will Packer Media to create meaningful and inspiring content for the web, which can be later adapted to film and television.  In her spare time, she enjoys speaking to young women and aspiring entrepreneurs through panel discussions and speaking engagements. She is also an IFBB Bikini Fitness competitor after earning her pro card in August 2018. 
___________________________________________________________________________________________________________________
WHAT PEOPLE ARE SAYING…
"I was pleased, impressed, and contemplated on the impact her decision was going to make for our generation. If she could leave the limelight for the search or the start of something different, something more, something of purpose and meaning, then who else could this inspire?"
Saba Tekle, Huffington Post
"Changing successful paths is not easy. I salute Necole for her courage and integrity."
Tyra Banks
"I love Necole's revamp. We've watched her become aware, responsible and purposeful."
Keri Hilson
"Kane isn't just inspiring her readers to read books, she's pushing them to live the life of their dreams—-the way she's been doing from day one. Necole found that her purpose was to get this generation out of a mental rut and to lead them wholeheartedly after their dreams."
Kat, Gigberry.com
"Necole Kane taught us a lesson in entrepreneurship and growth [when she bid] farewell to her gossip blog NecoleBitchie.com to launch a women's empowerment platform, xoNecole. "
Buzzfeed's 29 Times #BlackGirlMagic Was More Than A Hashtag
"That moment when you wake up and realize you want to be more than what everyone else expects you to be. Necole's final submission as a celebrity gossip blogger encapsulates the sentiments of anyone who has ever wanted to step out on faith, quickly realizing you are your only roadblock on the road less traveled. Necole's transparency and vulnerability not only elevated her own career, but gave so many other young innovators the confirmation that it is absolutely okay to want more for yourself. Her courageous story transformed into a brand wrapped in fearlessness, creating a platform for free self-expression."
Blavity
"As her blog continued to grow in popularity, Necole unknowingly became a celebrity herself. However, with all the success she had accumulated,  Necole knew she was not truly living in her purpose."
Sheen Magazine
"I love Necole's transition; it's such a beautiful thing. I love that she's putting her heart and her soul into the new site because I can relate to that. I get chills just thinking about when I read her letter explaining her thought process behind the change because that resonated with me.."
Zuri Hall, E! News host
"Evolution can be a frightening prospect, especially when you've achieved so much success doing something. It's clear that Necole has embraced her evolution. The end of Necole Bitchie marked the end of an era, and with the launch of xoNecole, the evolution of a woman dedicated to inspiring young women."
Nia Phillip, CreativeSmartGirl
"The greatest act of self love and belief? Learning to walk away from what no longer serves you. It's one thing to consider walking away from a cushy 9 to 5 but it's another walk away from one of the top blogs in the country. But you did it. You made a decision for yourself and you acted on it. Necole, do you realize how profound that is?"
Melissa Kimble, Founder – Blk Creatives
"Necole took a lane that was underserved and she created an opportunity for herself. And through credibility and her work ethic, she built a brand that's respected in the industry."
Terrence J, Television Host/ Actor/Producer