If it's one thing I love more than a spacious, cozy hotel, it's AIRBNB.
I travel a lot for work, and even more for some much needed vacation time, but what I've found to be super important when visiting new cities, is how comfortable your accommodations are, and for me, hotels just haven't been cutting it for me lately. 
Ever since I booked a 2 bedroom spacious condo, with a chef kitchen and washer and dryer in Paris for the same price I paid for a cramped hotel room which was barely big enough for a bed, I haven't looked back. Don't get me wrong, for last minute trips, I normally find myself booking a hotel (through the highly discounted HOTEL TONIGHT app) but for anything longer than a day or two, AIRBNB is my preference. 
Plus, what's better than getting to live like a local? 
With that being said, although most of the places I've booked on the site have been amazing, I've had some shady experiences as well.  Like the time I checked into an Airbnb and the biggest bug I've ever seen in my life greeted me at the door like, "Hey girl hey!!!"  The good news is that Airbnb was pretty good about refunding my money for that place and I decided against giving the apartment host a bad review. 
Things happen.
For that reason, I decided to share the Top Airbnb's I've ever stayed at in various cities. 
1. London, England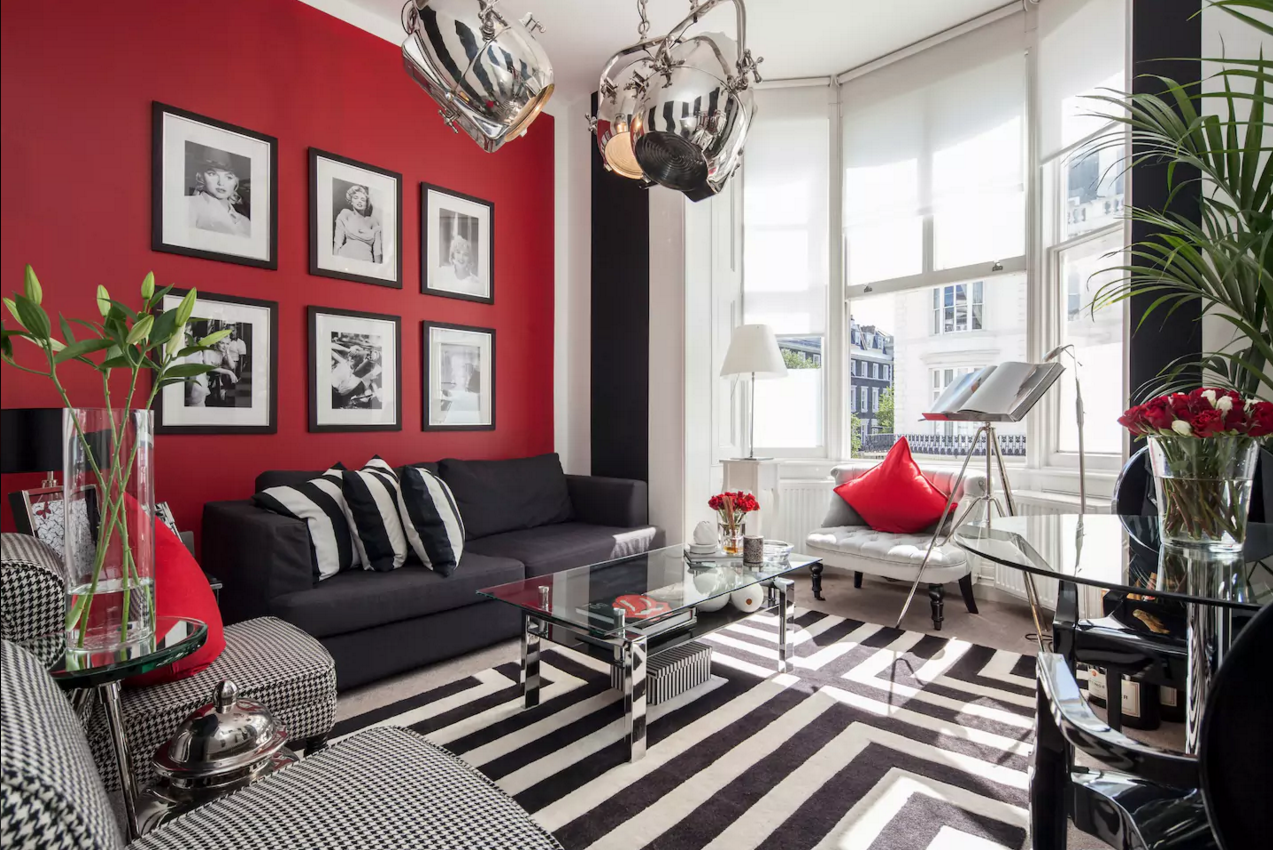 Cost: Ranges from $170 – $215 a night
What I loved: This Luxury, Airy and Bright 1 bedroom modern apartment in the Paddington area of London was the upper echelon of Airbnb experiences. The neighborhood was gorg with all white buildings lining both sides of the street, and Hyde Park (which is equivalent to Central Park) was a few blocks away. The train station was a short 5-10 minute walk which was convenient since all of the necessary attractions (Birmingham Palace, The London Eye, Big Ben, etc) were only a few stops away.
The inside of the apartment was impeccable and decorated to give an old Hollywood glamour feel. The bedroom was very ZEN and had bottles of water and fruit on the night stand. When I checked in there was fresh roses on the table, as well as chocolates, the kitchen cabinets were fully stocked with pots and pans and food, the fridge stocked with water and fruit, and the bathroom fully stocked with all the essentials such as toothpaste, lotion, toothbrushes, etc. I thought maybe it was a one time thing since I was one of the first  to ever stay in the place, but when I went back to look at the reviews recently, everyone mentioned the roses, fruit, fully stocked kitchen and so forth.  A fully stocked kitchen is very rare for an Airbnb unit. 
Additional bonus points: Since I was staying for a week, I reached out to the hosts to ask if they'd be able to give me the place for a set rate, which was discounted a few hundred dollars, and they agreed. (I never mentioned my websites or anything.)  Also, upon check in I asked if they had a full-length mirror in the condo, and I was told 'no' but they kindly brought one in for me the next day. 
2. Paris, France
Cost: $176
This 2 bedroom apartment in the Le Marais area of Paris was my first AIRBNB experience ever. Unlike the London pad which is set up to be rented out by a high volume of guests, this place is the actual living quarters of the host, and she rents it out during the holidays.  
What I loved: Once we got past the super tiny elevator (that could barely fit one person), and the fact that all of the hosts things were still in the apartment, we realized that this condo far exceeded what we would have ever gotten out of a Parisian hotel for the same rate.  The apartment was spacious with a huge cozy living room, washer and dryer, and chef style kitchen. There was also plenty of train lines nearby, as well as restaurants, shops and the market for basic necessities.  What made this stay amazing was the hospitality of the host's boyfriend Herve, who helped us carry our bags when we arrived as well as when we departed and was very generous. 
I definitely would recommend if staying in Paris for longer than 4-5 days. Live like a local!!
3. Manhattan, New York
Cost: $349 (Not bad for a 2bedroom in New York if you are traveling with 2 or more people. This place can hold up to 4-6 people comfortably. )
If it's one place I prefer not to Airbnb in, it's New York City. You just never know what you are walking into, and you have to make sure you read the reviews thoroughly before booking.  It's just uber convenient if you are traveling with friends and want to book one unit versus several hotel rooms.
What I loved: This Spacious Mid-town 2 Bedroom apartment near 5th Avenue lived up to all of my expectations.  The unit looked like the photos, and the two bedrooms had enough space to walk around and feel comfortable.  The building had an elevator which you will find is rare. Most apartments in New York listed on Airbnb are walk ups! The full length mirror in the living room was a huge plus for us since we attended a few events during our stay and needed to make sure we were presentable before leaving the house.  This was definitely one of the coziest and spacious New York Airbnb apartments I've stayed in and it was in a central location (near 51st and 5) close to everything you'd need.
The check in process was also flawless with someone meeting us at our check in and check out time.   (A recent Airbnb I stayed in had us walking blocks –with our luggage– to find a safe deposit box located in a pay phone to get our keys. And there was a two flight walk up.  Just terrible.)
4. Las Vegas, Nevada
Cost: $98 – 120
What I loved: If you want to be extremely close to the strip, but away from the crowds, loud noise, and gambling that Vegas is known for, this 21st floor Strip View Studio In The MGM Grand Signature is everything you are looking for while being cheaper than most hotels.  Since the MGM Signature is a hotel, you have to check in at the front desk in the same way you would a hotel room, however with an oversized bathroom complete with a spa tub, two flat screen TV's, a view of the Strip and (the jumping pool party over at the MGM Grand, a comfy bed, and pool on the property, you can't really beat the price.  
Extra bonuses: Room service and valet 
5. Chicago, Illinois
Cost: $92 – $98
What I loved: If you are hopping in and out of Chicago for a business trip, and need a crash pad, this Charming apt in Lakeview will serve it's purpose.  The place looks exactly like the photos (very artsy and cosy) and is situated in an elevator building in a quiet neighborhood, with just a 10-15 minute ride to downtown Chicago.  Maria the host has some great books on her windowsill as well. 
During my stay, the maintenance guy came banging on the door abruptly while interrupting my much needed nap after a red eye flight. It wasn't a big deal to me, but when I woke up, I had a note from the host that she had left something outside my door. It was a bottle of wine as an apology for the disturbance. I thought that was very thoughtful. 
6. Atlanta, GA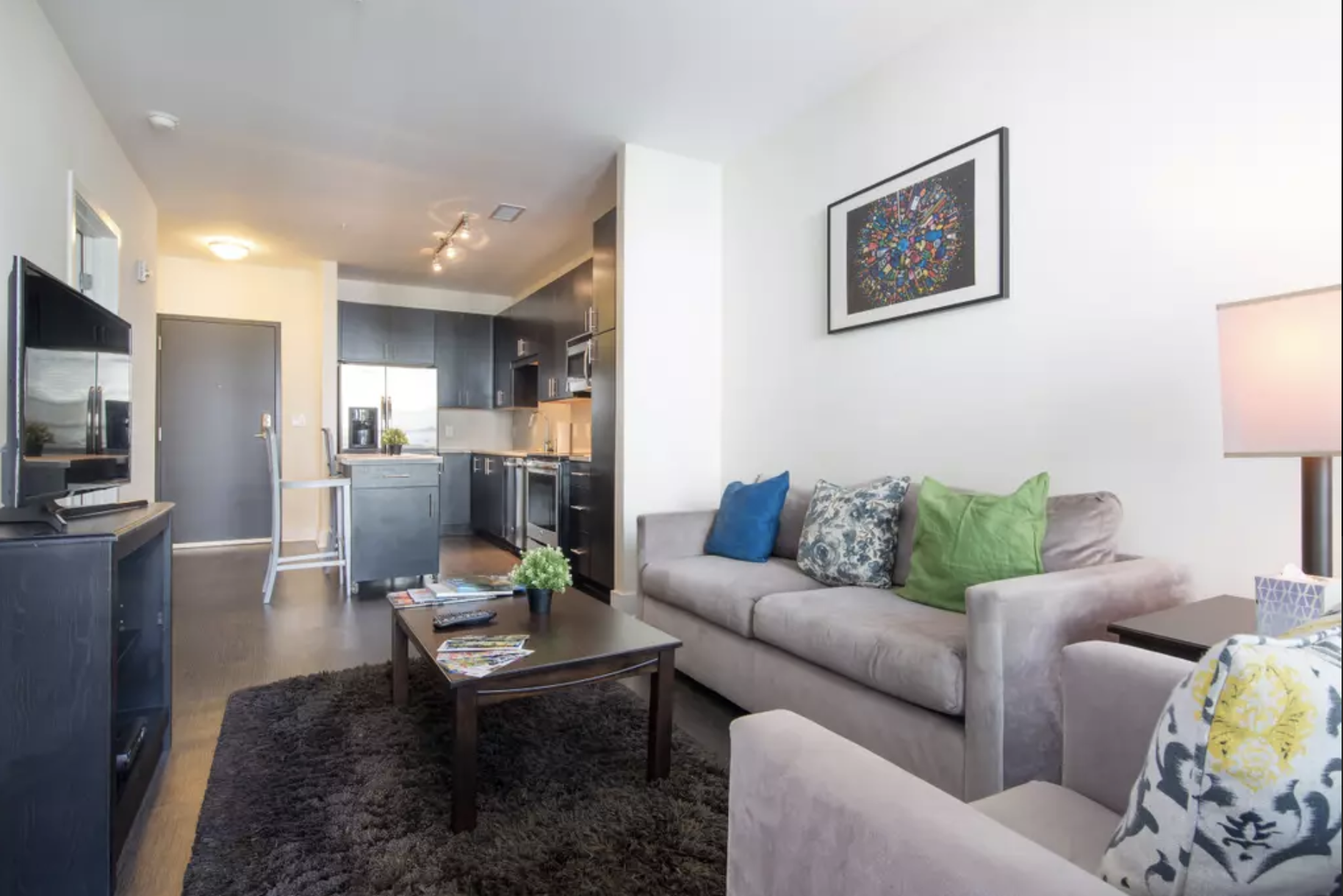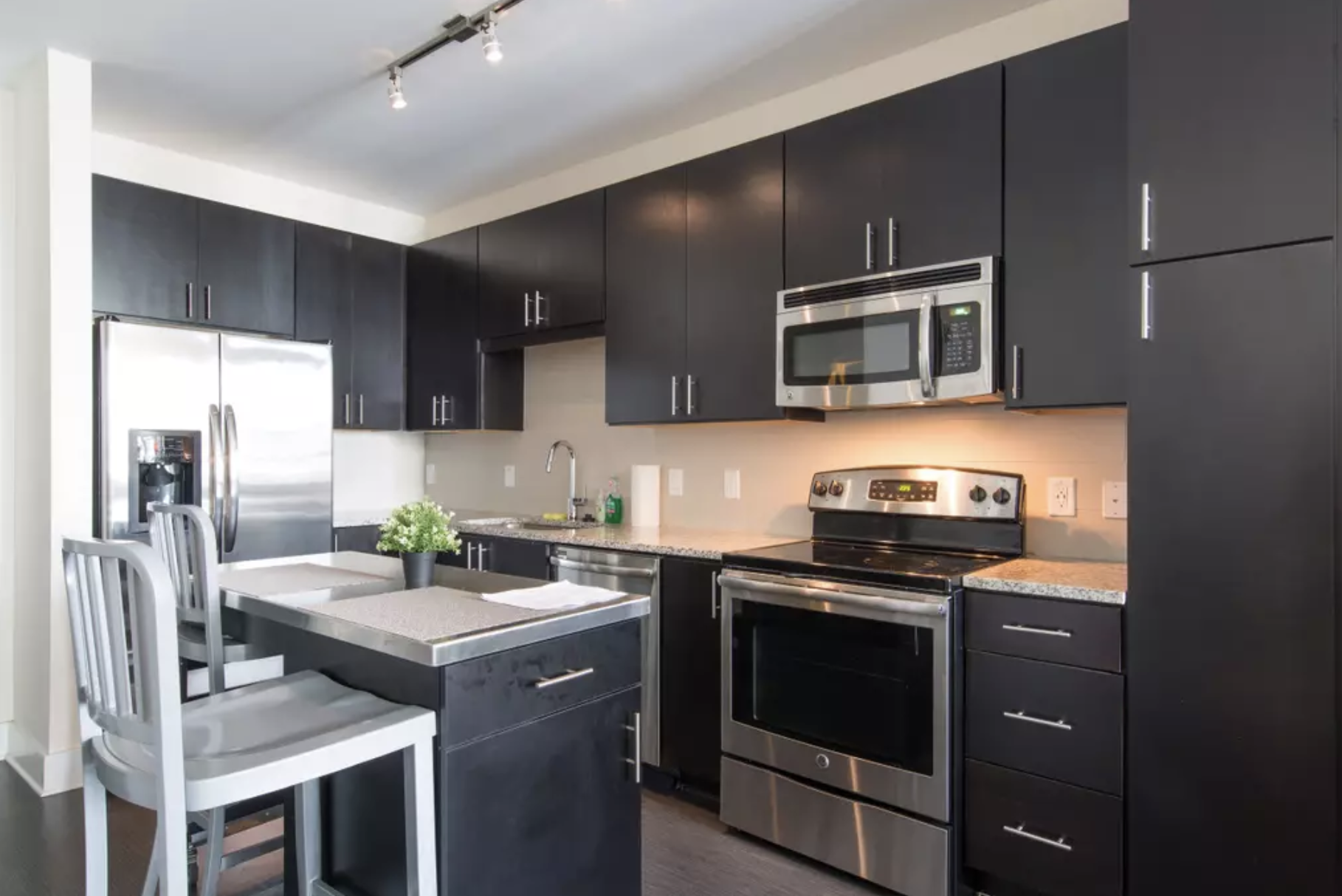 Cost: $99 a night
What I loved: If you are visiting Atlanta for more than 2 or 3 days and need space, plus basic amenities like washer and dryer, a full kitchen, gym and underground parking, this Buckhead 1-bedroom condo is a good option. There is a grocery store literally across the street, and it's a very short distance to Lenox Mall and other Atlanta hotspots, bars and restaurants with Midtown being a short 10-15 drive away.  There's no way you can find a hotel room for the same rate, amenities and space.
7. Hollywood, CA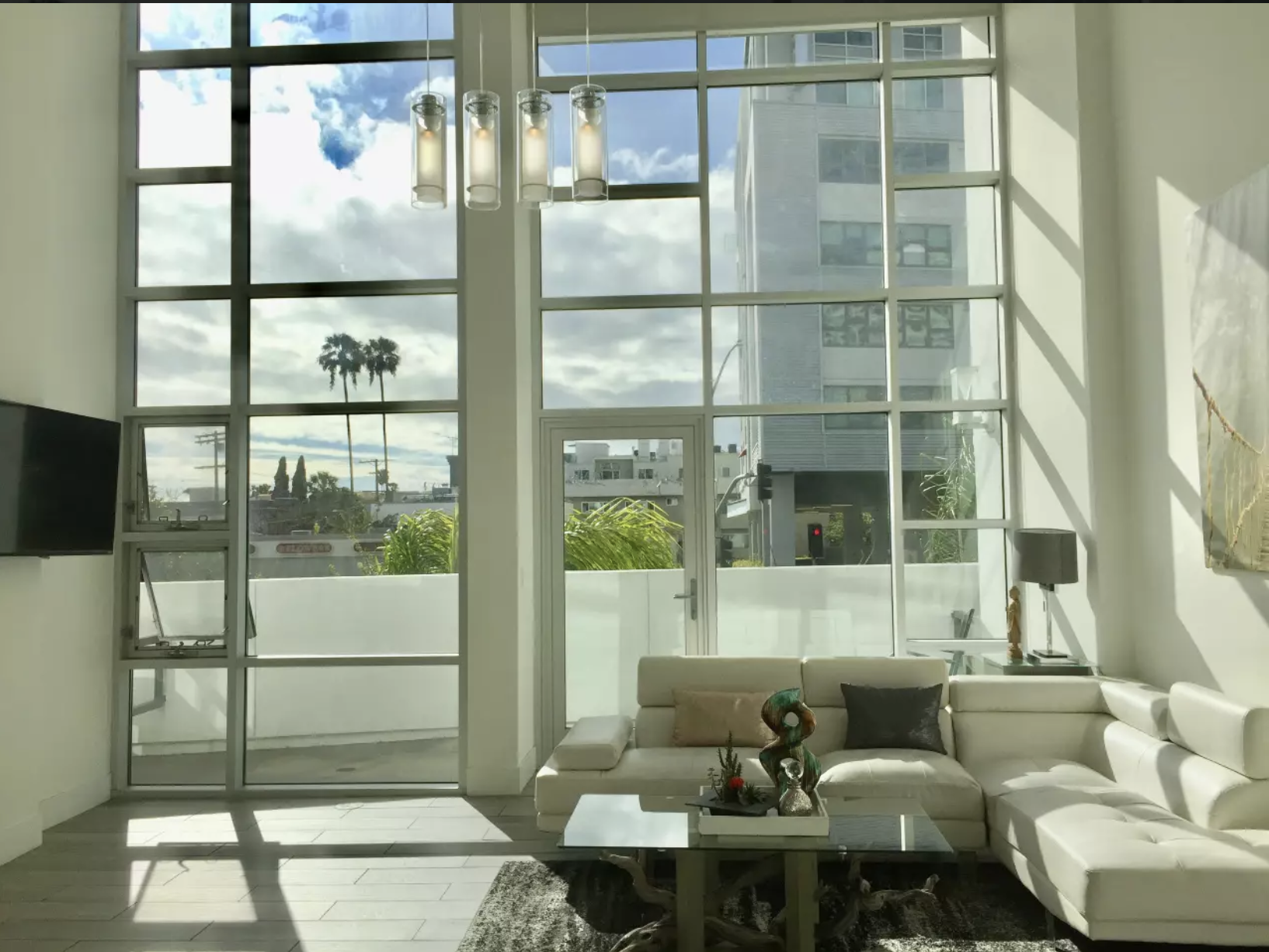 Cost: $179 a night
Why I love it: I ended up booking this two story Hollywood loft while on a business trip to LA and found it to be much more cost effective than the hotel that we usually book when we visit our LA offices. It is located at La Brea and Sunset and was a 5-15 minute drive to everywhere I needed to go, including Soul Cycle in Weho.  The apartment came equipped with a washer and dryer and 2 bathrooms, as well as a chef kitchen, floor to ceiling windows, 20 foot ceilings, a gym located right outside the door.  All of the nearby hotels in the area are at least $250-350 a night, and you get four times the space with this unit as well as free parking.  It's definitely a good option for people who have to frequent LA for more than 3-4 days at a time but still want to fill like they are at home versus living out of a suitcase.
If this unit is booked, there is another one in the same building that is even nicer:
Modern Stylish Loft With Breathtaking City Views
P.S,. I remember a time I walked into a $105 dollar a night Airbnb that was in the heart of Hollywood, and I stayed all of 30 minutes. There was no way, anyone would have paid me to ever stay there.  This is why I made this post, to cosign the actual places I've stayed at that I loved and that were safe.
_________________
If you will be visiting any of these cities soon, I hope these listings are useful. Always remember to read the reviews before booking an Airbnb as you will find out all that you need to know. Also, if you are not a member of Airbnb and interested in joining, follow this link, sign up and enjoy $35 off your trip the first time you book. 
P.S. If you are just popping in and out of a city last minute for a night or two, hotel tonight is another good option for extremely last minute, discounted hotel rooms.  Download the app here and use my promo code NNECOLE for $25 off your first booking. 
Have you ever stayed in an Airbnb? Share your experience (and the link if you dare). 
Keep in touch. Follow me on Instagram!