[I'm Featured In The LA Sentinel] Necole Bitchie: Branding Her Business Beyond Her Blog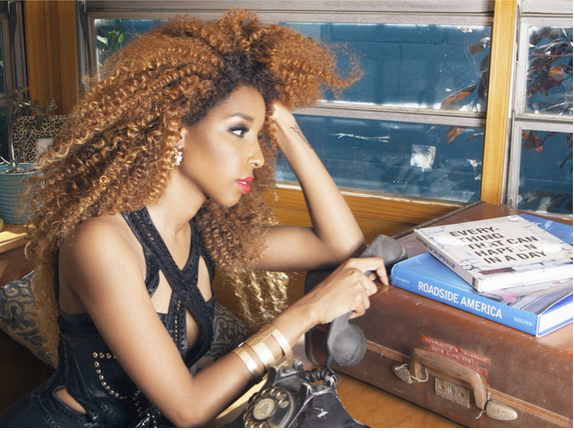 I want to thank Zon D'Amour for this lovely article she wrote that will be published in Thursday's edition of the LA Sentinel. Seeing as though I haven't really updated my blog with details on what I've been doing since the last post in July, I think it's a real reflection of where I am in life right now.
Via Zon's site Aimeramour:
___________________
On a Monday, Necole Kane known to most as Necole Bitchie was summoned to The White House to attend a panel on HBCU's (Historically Black Colleges and Universities) that was happening the next day. Moderated by television personality, and North Carolina A&T University alum Terrence J. The panel featured actress and Spellman College alumna Keisha Knight Pulliam. The event discussed the misconceptions about HBCU's and the panelists shared their experiences and success stories for students. When Kane returned home she said to herself, 'Wow, look where blogging has taken me, to The White House.'
Daily, Kane's entertainment gossip blog, NecoleBitchie.com receives millions of views as she updates faithful readers with tidbits on urban pop culture as well as doses of feel good, uplifting stories. She recently celebrated the blogs seventh year and though she believes the seventh year is the year of completion she's almost ready, but not quite ready to move on from the blog. "When you take in celebrity news and entertainment the way I have to take it in everyday, it really stunts your growth creatively. For me to go into my next chapter, it can't include the celebrity site. I hate to say it but I'm going to have to let it go completely to fully walk into my purpose." She continues, "It's a hard pill for me to swallow but it's one of the reasons why I moved to Arizona, to prepare myself for the next chapter."
Having lived in nearly ten states in the past ten years including Washington, DC, Maryland, New York, Georgia, Florida and California, Kane recently moved to Arizona to somewhat escape the hustle and bustle of the major entertainment markets and work on finding a balance between her personal and professional life. Many young women look to Kane's personal blog, IamNecole.com for relationship and career advice. On the blog, she's been extremely candid about her life experiences from struggling to make ends meet when working at a radio station to a tumultuous relationship with her mother in addition to topics such as chasing significance instead of success.
Kane recently took a hiatus from IamNecole after a very introspective piece entitled, "A Distorted Perception of Love". She says, "I realized many of the things I was writing about on the blog were about past experiences, things that happened in my childhood and teenage years. I wasn't drawing any experience from my current life because I wasn't allowing myself to live life. After that blog I made a vow to myself to love no matter how hard it hurts. I was going to let my guard down and let myself be vulnerable."
Kane shares an imperative lesson learned from recent dating experience that will be the topic of discussion when she returns to her personal blog. "As women we're usually upset and frustrated when a relationship ends but as long as we enjoy the moment, even if it didn't work out, we shouldn't feel regret. Oftentimes we as women mistake falling in love with a moment, with falling in love with the person we shared that moment with.  I've become wise enough to know the difference."
When she's not inserting her opinions in posts on NecoleBitchie.com or posing questions to a combined total of over five-hundred thousand followers on Instagram, Kane's wisdom can be found in 140 characters to her nearly thirty thousand followers on her personal twitter. She once tweeted, "In order to grow a business, it has to grow beyond you." In 2012, Kane admittedly had a series of failures in attempts to grow her business including spending upwards of $50,000 on trying to get ideas off the ground. At the time, she was also dealing with several lawsuits and issues with the IRS.
At a time when most would have given up by possibly filing for bankruptcy or selling their site, Kane persevered and took time off to reassess her brand. In December 2013 she spent ten days in Paris, France and in December 2014 she spent ten days in Dubai. "As your business grows, you have to know when it's time to start hiring. I recently hired a Content Manager who helps to choose the topics we're going to cover and assign stories to writers. Prior to this year, I was far too involved in the site which didn't leave me with much time to work on expansion."
She continues, "How could I write a book or take a role on a show if I'm spending eight hours looking for leads on stories and writing content for the website. After a day of blogging and celebrity craziness I'm so burnt out. You have to know when it's time to hire a team and you have to find people who are just as passionate about the brand as you are. I have a girl on my staff right now, her passion and belief in my brand keeps me going on days where I feel like giving up."
Kane's business model is definitely different from other companies but it's one of the many things that makes her admirable. "I haven't hired many people with previous corporate experience. My social media manager, years ago, I plucked her from a small town in Florida and we've grown together. Although they say, in business, you should hire people in positions that know more than you do, I love that me and my staff all learn and grow together." She adds, "I love giving young women outside of the major markets of New York and L.A. chances to work in this industry. I remember a woman once looked out for me and told me whatever you do, reach back and give another black woman an opportunity and that's what I pride myself off doing."

Necole Bitchie and TV personality Terrence J. visit The White House for the Champions of Change event honoring successful HBCU alumni.
Apart of Kane's next chapter includes penning a highly anticipated memoir. A colleague of Kane's from her time in DC named Brittney Norwood was accused of murder and a Washington Post reporter wrote a book on the infamous situation. "When I read the book, I was so hurt. It painted Brittney as a girl that I didn't know. I felt like she was robbed of the opportunity to tell her story. The writer compiled interviews from people close to the situation, the victim's family and thousands of her text messages from years prior to the murder were analyzed." She continues, "The book also came out around the same time Lifetime released the Aaliyah: Princess of R&B movie where her family wasn't involved in telling her story. This led me to think that I would hate for something to happen to me and I didn't get the chance to tell my story in my own words. That really pushed me to make releasing my memoir and going on a book tour my number one priority for this year."
Kane was most recently notified that she would be honored by the American University Public Relations Students Society of America (PRSSA) with their Communicator's Award. "I had a hard time in college because I didn't speak very well, I wasn't very articulate and I had a strong country accent. I came from a family where some hadn't finished high school let alone had gone to college, I wanted to be the next Oprah and go from city to city inspiring young women but those people in college took my voice away from me. By teasing me, they made me feel as if something was wrong with me. Suddenly, I didn't want to speak in public anymore."
With great pride she continues, "To now be in a position where am organization wants to honor me with a communicator award is an accomplishment as high on my list as going to The White House. Every year, I think I can't be surprised any further but the blessings keep coming."