'Bitchie Night Out' Los Angeles In Photos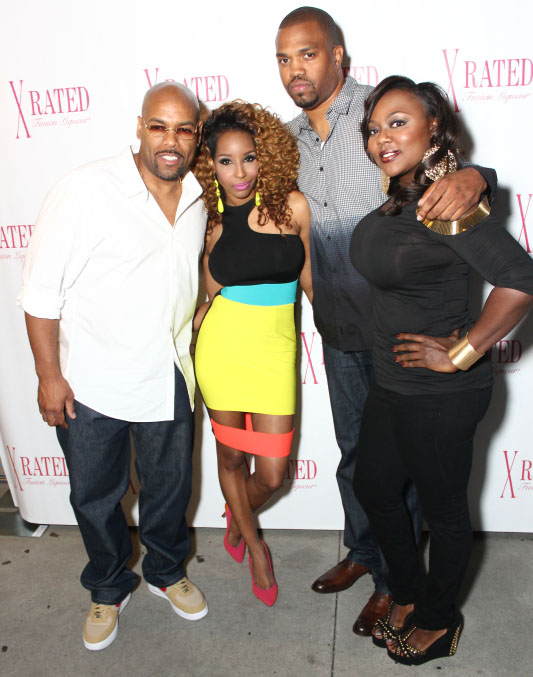 We had soooo much fun at my first ever Bitchie Night Out held last Thursday (June 28th) at Entourage in Los Angeles.  I was coming off of a very stressful week of moving across the country (from Los Angeles to New York), plus BET Awards planning.  Not more than 6 days before the event, I called up my publicist and said, 'this is my fourth year doing the BET Awards', I feel like we should throw a party or something. Invite some readers, have some food and drinks and kick off the whole BET Awards weekend with a bang.  It was amazing how fast everything pulled together (My publicist Christina Rice is the bomb! She can make anything happen!) and I was even more amazed at the love everyone showed that came by. We sent out the invites two days before the event and we were crossing our fingers that people were going to actually be in town since it was the Thursday before the show.  I initially had planned to fly in on Friday but it all worked out.
I am so thankful for X-Rated Fusion Liqueur for sponsoring the event and providing special 'Bitchie' cocktails all night to party guests.  I called up a few promoters in LA and asked if they could find me a fly female DJ and everyone recommended DJ Dom Dior.  She did not disappoint! Everyone loved her and she's soooo fly!
I was very surprised to see all of the Basketball Wives there. They are filming the second season and they have a few new girls. Every last one of them that I chatted with,  from Malaysia Pargo to Draya, was rolling their eyes when I asked about the show and the new girls and they definitely alluded that the drama has already started.
Model Rosa Acosta came by. She has to be one of the most sweetest people I've ever met and it's always a pleasure to see her.  Jermaine Dupri brought his new artist Leah Labelle and Austin Brown (which is a nephew of Michael Jackson's).  I was reminded of that era in music when JD brought up Kris Kross, Da Brat and Xscape. (shouts to LaTocha Scott who was there as well as 90's singer 'Sparkle').  Terrence J, Fred Whit and Michael Kyser were there (me and these guys use to party hard in Miami..Fun times..now they are all focused man and making big moves! ha!) Teairra Mari, Bridget Kelly, Shanell (of Young Money), Kalenna (of Dirty Money) and my girl Melody Thorton (formerly of the Pussycat Dolls) showed mad love.  I was surrounded by my good friends Lauren Turner, Fallon Mercedes, stylist Toye Adedipe and my hairstylist Will Robinson as well as my sister Shyrra.  All the people I love and it was just a great moment. I can't wait until we start planning my next one.
Check out the pics below: