How I Plan To Navigate Living In New York Differently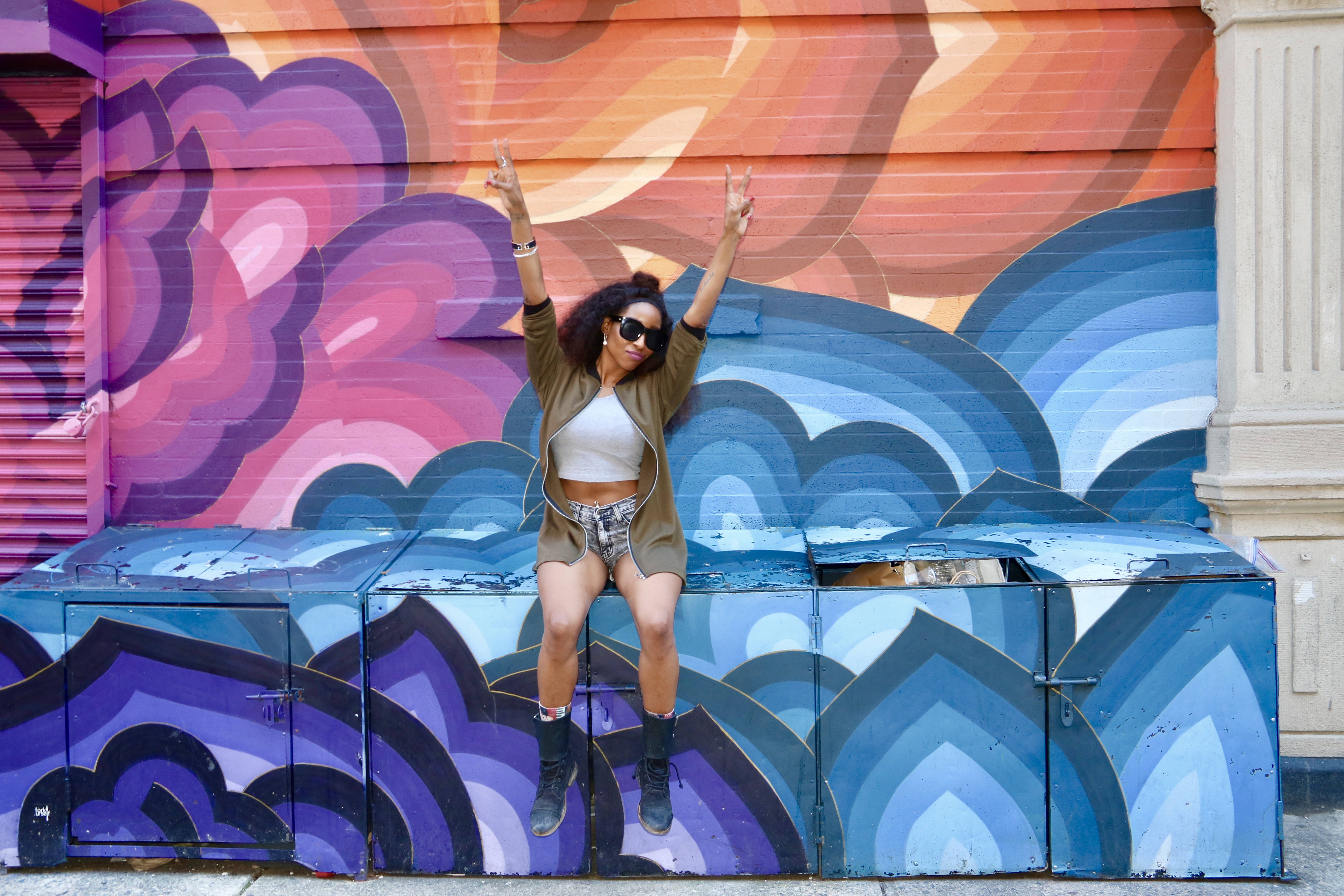 Throughout my life I've learned two things:
1) Don't allow yourself to be restricted by rules. To live a liberated life of your dreams, you'll eventually break every single one of them. 
and
2) Never say never 
Two years ago, I said I would never live in New York or the surrounding area again.
I lied.
As a backstory, I've lived in Union City (10 Minutes outside of midtown Manhattan) in 2007, Downtown Brooklyn in 2010, and Union City again in 2013.  The last time around, when my lease was up and I attempted to find another place to live in the city that didn't require 2 full months rent for the security deposit,  would give me the luxury of having a washer and dryer in the apartment, and parking that didn't require me to have to wake up 1-2 times a week to move my car to another block because of street cleaning, I failed. In comparison, I went to LA for a week and found a spacious apartment with tons of natural lighting, basic luxuries, free garage parking and only required a $300 security deposit.  I was on the West Coast before anyone I knew could throw a "going away" festivity.
I was out.
Over the years, I've always questioned why living in New York was so hard.  
Eating healthy was the struggle.
Finding time to go to the gym was a struggle.
Self-care was a struggle.
Grocery shopping was a struggle.
Doing laundry if you weren't the lucky few who had W/D in unit was a struggle.
Finding time to do anything outside of work and a little networking, was the struggle.
How did people over the age of 28 still do it?
After living in Arizona for two years, surrounded by Zen, energy healers, friendly neighbors, $25 dollar a month gym memberships and a list of luxuries, I said I could never go back to that lifestyle again.
And again, I lied.
In a few weeks, I will be moving to New York again.  Although I started to believe I was going to spend the rest of my life tucked away in the desert living a very modest lifestyle, God had other plans for me. This year, I felt this overwhelming jolting feeling that I was settling for comfort. That I hadn't even come close to walking in my fullest capacity of greatness, and that this calm, clarity-filled, healthy life that I was currently living, as beautiful as it was, was pulling me further and further away from the purpose-filled life that I was destined to live.
So when career opportunities started presenting themselves, especially those that scared the crap out of me, I knew it was time to embark on a new journey, and my time here was finally coming to an end.
As I pack up my things, and leave my peaceful life behind in Arizona, here's how I have decided I will be navigating New York differently:
1. Create a self-care routine in the mornings
One of the first things I did when I realized there was a possibility I would be returning to New York was call a friend and ask her, "How do you exercise self-care?"  I needed to know between the constant rush of subways, her job, attending network events and rushing from one place to the next, how she was able to create time to love on herself. Her answer was simple, "This city doesn't have a collective curfew, so I make sure I always get up early and carve out time in the morning to find my center."
Noted.
For me, this will mean making sure I'm in the house by 9 and bed no later than 11 during the weekdays so that I can wake up during the magic hours between 4am and 6am when the city is sleeping. I plan to continue my morning self-care ritual that I currently have in Arizona which includes; opening my blinds, prayer, journaling, aromatherapy with essential oils,  cooking breakfast, and listening to a few chapters of an audio book or podcast — all before checking my phone to make sure I'm grounded and centered before I plug into the real world.
2. Get to know my neighborhood, my neighbors and have staples
The one thing I've come to love about living in a not so major city like Scottsdale, Arizona is that people actually make eye contact and engage with you when you walk in stores, restaurants or pass each other in elevators. Most of the restaurants I frequent remember my order, and my UPS guy makes sure there is a bowl of fresh tootsie rolls in the front of the store every time I come to pick up my mail.  I love the familiarity of it all.
I realize I can create a similar atmosphere in a big city like New York if I make time to really get to know my neighborhood. Frequenting the same coffee shops and bodegas often and taking time to make eye contact with people, as well as engage in conversation will help me get to know my neighbors and the people who are serving me a nice warm latte each day.
3. Arrive everywhere early
I found myself flustered a lot during the times that I lived in New York, and I'm coming to terms that it was 90% my fault. I was flustered because I was always rushing and I was always rushing because I was always running late.  During the recent week I spent in New York, I arrived to all of my meetings at least a half hour early and there was a noticeable difference in how calm and confident I was versus the times I've shown up on time or a few minutes late. Arriving to places early, regardless of if it's an event, important job interview, or dinner meeting, gives you time to settle in, scope out the atmosphere, and gather your thoughts which will boost your confidence and lead to better networking. Not to mention, it will leave a lasting impression.
4. A Social Circle Of Empowering Friends
While at the DC Broccoli Festival, I ran into "The Queen of Green" Yoli Ouiya who runs the healthy living blog Yoli's Green Living. We instantly connected on our passion for self-care, crystal therapy and educating the community on healthier eating habits. When I mentioned I was toying with the idea of returning to New York, she told me she wanted to put together a sister circle of women who had similar interests in self-care and health for weekly meet ups and accountability check ins.   That was music to my ears.
Aside from nurturing friendships with people who have similar lifestyle interests as I do, I also want to make sure I venture outside of my comfort zone and create friendships that empower me. I've sort of fell into the mentor role to a lot of people throughout my career and realized that although I had a lot of friends who looked up to me, I wasn't establishing a lot of deeper connections and relationships with people I admired and looked up to.  That is crucial in the pursuit of elevating higher.

5. Continue To Meal Prep, Indulge In Healthy Eating & Stay Fit
While we are on the subject of healthy eating, I can no longer allow myself to be on the one-meal-a-day diet that I adopted while working in the entertainment industry the previous three times I lived in New York.  As entrepreneurs, at times we find ourselves so emerged in work that Breakfast and Lunch time passes us by and it's not until late afternoon that we grab our first meal. An unhealthy meal at that.  This go-round, meal prepping will be crucial to me sticking to a healthy diet. Better, healthier eating habits have become key to managing my energy, and has resulted in me being far more alert, creative and productive during the day.
I'm well aware, that grocery runs won't be as quick and easy as they are where I'm currently living, however, the benefits of continuing my current meal prep routine will be well worth the effort.
Also, hitting the gym and releasing endorphins hasn't just kept me uber fit, it has been the key to managing my stress levels. Finding a gym home and working out at least 3-4 times a week is going to be a crucial part of me keeping my peace. 
6. Ditch The Car, Take The Subway
The last three times I lived in New York, I owned a car and instead of taking the subway, I drove, Uber'd, or Taxi'd my way around the city while racking up transportation and parking bills that rivaled rent prices.
This can not happen in 2017. I value saving for retirement, travel and living a life I don't need to constantly escape from far too much.  Taking the subway is not only much cheaper than all the other options that are available, you get places far quicker.
7. Spend More Time Networking
Dinner meetings, networking events, happy hour drinks, thank you notes and follow up emails are all crucial keys in building and nurturing your relationships in huge cities like New York. I remember being on the Rolling Out Female Success Tour in 2008 when I first heard Munson Steed proclaim, "Your network is your net worth." I must admit, due to my social anxiety and awkwardness in social settings, I haven't been the best networker in my career, but I am now challenging myself face my fears and go to more events, hand out more business cards and work the rooms when I return to the Big Apple.
8. Have A Thriving Personal Life
Work, life, love balance is very important to me in this stage of my life. During most of the 10 years of my career in entertainment, I didn't date and most of my friends were my peers or business associates. Honestly, having solely these type of relationships can feel empty and almost a bit lonely in a city like New York.  You find yourself only knowing bits and pieces of people and only catching up to go to parties, events and brunches together.  I need something deeper to be fulfilled.
Now that my priorities in life have shifted to include more balance and the things that bring me joy, dating and getting to know people beyond surface level relationships is so important to me. This is a huge focus for me as I attempt to thrive in the next stage of my life and career.
I'm looking at New York through a different lens than I did before.  My perspective has changed and my new New York chapter won't be full of people I barely remember, at events I barely cared about. It's going to mean something this time around.
Are you a current New Yorker or have you ever lived in New York at some point? Any suggestions on how I can navigate this fast paced scene and get the work/life balance I so dearly crave would be greatly appreciated!