How I Turned My Bedroom Into A Zen Oasis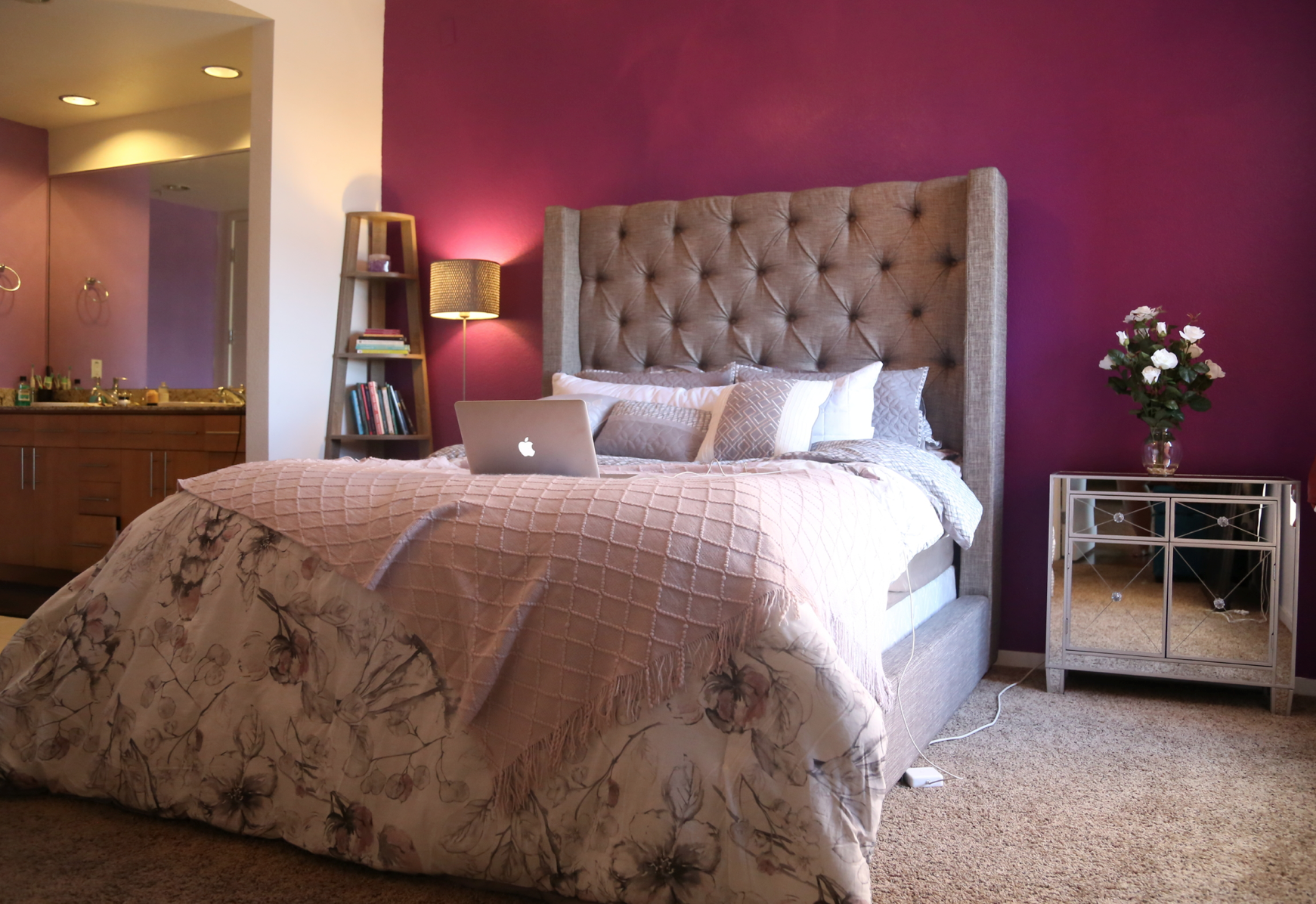 "Create positive space around you, even if it's in your mind. You must have an environment of good energy in order to give good energy."
Does the space you spend the most time in leave you drained, uninspired and unproductive?
Earlier this year, I started noticing a pattern that I was creating.  Ever since my first real job in Corporate America, I never made my work space a home. I always treated my desk as a temporary dwelling, refusing to pin photos, put up quotes, and decorate the space as if someone actually worked there 8 hours a day. I figured why bother to personalize the space if I went into every job knowing it was a temporary situation for me –a means to pay bills and get by until another opportunity came knocking that would place me closer to my dreams.
This went on for over 10 years.  I never really personalized my spaces with my own personal touch.  Homes in Detroit, New York, LA, Miami, and Atlanta were all temporary set ups and situations for me. I knew I'd only last a year or so in each location and I'd be on to the next. (Yes, I have destination addiction. You can read about it here!)
Finally in 2014, when I first moved to Arizona, I decided immediately I wanted to add some character to my place while I figured out my next move. I painted the walls, hung up some paintings, installed pendant lights in my kitchen and got a dog (LOL!).
Again, I only planned to stay a year but I wanted to feel comfortable and at home during that year.  I was only supposed to be in Scottsdale long enough to make my career transition and once that was done, I'd be free to plot my next city and next adventure.  But somehow, a year came and went, and I was still here…and I still wonder if me staying had anything to do with me creating a house that now felt like a home.
But of course, it didn't take long before I found myself moving again…
This time it was a very small move, in the same community three doors down. A friend and I decided we'd cut our bills in half by moving in together, and I said, 'Why not?' When you are transitioning into the life of your dreams, sometimes you have to make sacrifices to make things happen. I've always wanted to live a life full of travel and adventure, but the huge expenses I started accumulating personally and professionally was holding me back from that life. This move was probably one of the smartest decisions I made in the last ten years. I would now have an extra $1500 a month to go towards things I enjoyed (i.e. Pilate & Yoga classes, traveling, fitness, health etc.)
Right from the start,  I thought of it as only a temporary situation for me.  I kept fantasizing about being able to work from anywhere in the world, so I wanted to put myself in a position where I wasn't completely tied down to a place because of the accumulation of things that didn't have much value.  I wanted to make sure I could start moving around freely, so I sold a lot of my furniture and I only had a desk for my home office, no bedroom furniture and piles of clothes and books everywhere.
It was really pretty messy.
I didn't know at the time that my messy space was a reflection of my messy life. I also didn't realize that my current set up was sending "I'm Not Staying Here Long" energy, out into the universe. I was still living as though it was my old college days again—unsettled and unconcerned with creating a house that was a home.
And I started to notice that the cluttered and messy space I had created was definitely having a negative impact on my daily life.
For months, I felt drained and uninspired. This was a huge problem since I was working from home a lot.  Since my desk was located in my bedroom (I now realize that's a huge no no) and I spent most of my time there, I knew I had to do something about it and fast! So I started Operation: Create My Happy Space. 
Over a period of a month, I went from this ….
To this…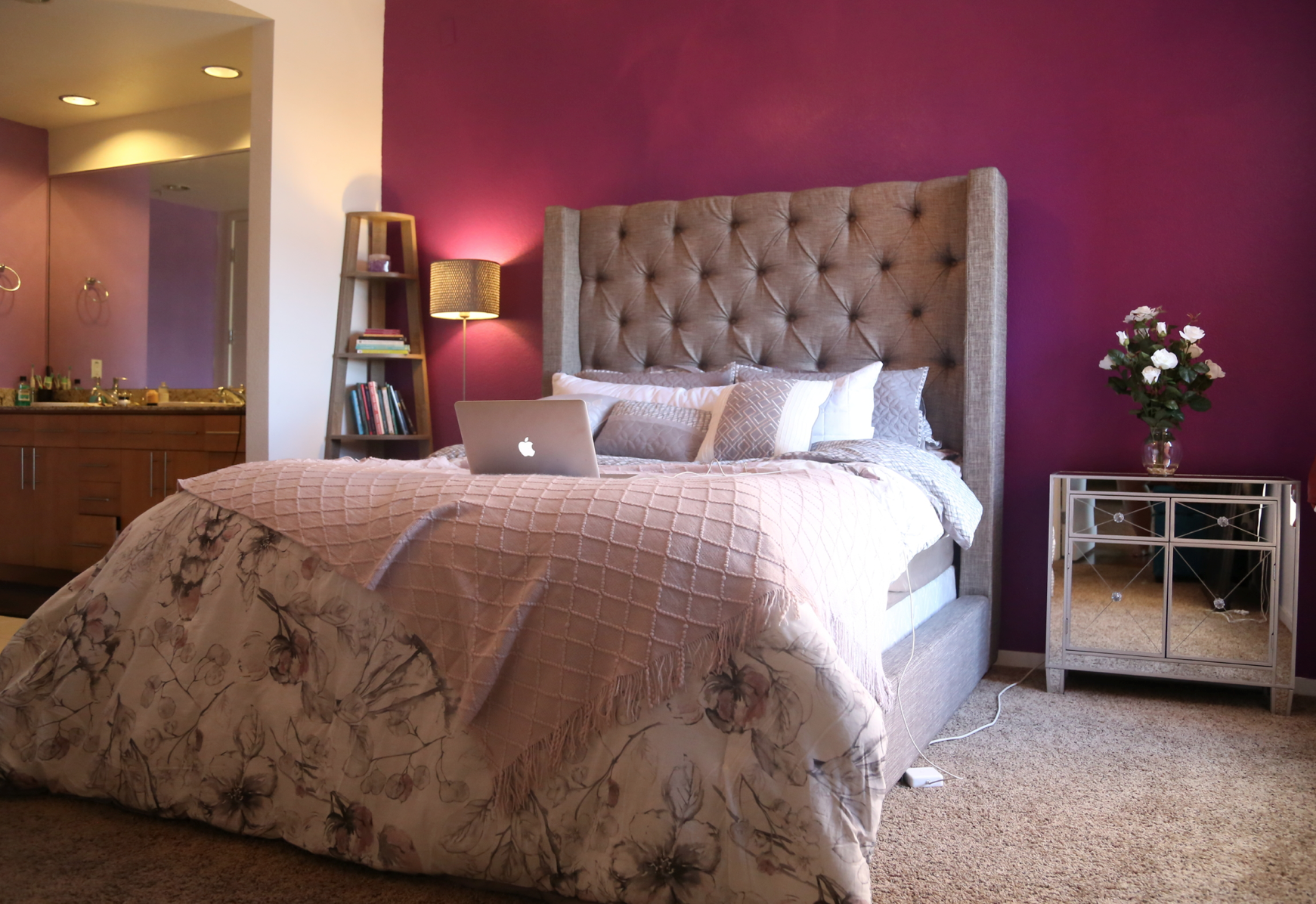 I can honestly say my room feels like a vacation home now. When you walk in on any given day, you'll hear soothing music, smell lavender and peppermint scents, and feel a gentle breeze flowing. Everyone who visits mentions how soothing it feels and I've even had a few people say, "I would never leave my room if I stayed here."
Here are a few changes I made to my room to create peace and order in my life:
Paint
I painted the walls purple, after studying Feng Shui. I wanted to attract prosperity and in Feng Shui, the color purple attracts abundance. This color also brought a romantic, soothing energy to my bedroom. I adore it!  (I also bought some purple curtains to match.)
A Lamp
I bought a grey lamp to match the color scheme of my room. The lamp also changed the mood of the room in a good way. I used to have a ceiling fan with a harsh overhead light. Now the lamp casts beautiful shadows, lighting up the space gently without glare. There is an app called Offer Up that I love. I buy and sell everything off on there and find it way more reliable than Craigslist as a source for gently used decor items. I bought this lamp for a steal at 20 bucks using Offer Up. 
A Plant
Initially, I brought home a beautiful purple Orchid for my room. It fit so perfectly  but unfortunately I couldn't keep the poor thing alive past three days.  (And only after it died did my Facebook friends tell me that three ice cubes would have saved the day.) Now I have an artificial bouquet of white roses. Adding flowers or a plant to your workspace increases productivity and creativity.
Himalayan Salt Crystal Lamp
I originally bought my Himalayan salt lamp while browsing Bed, Bath & Beyond because it looked cool and changed colors. When it's turned on, it creates a very relaxing atmosphere in my room.  I had no idea it had health benefits. Some sites claim that they boost blood flow, improve sleep, increase levels of serotonin in the brain, and calm allergy or asthma symptoms.  They also keep the air clean and help with respiratory problems.
Bookshelf
While decluttering, I needed a space for my piles of books. My first thought (and I'm still considering it) was to install some floating shelves above my desk. For the time being, I bought a corner bookshelf which makes for a beautiful home for my books on self-help, happiness, Buddhism, and love. Beginning and ending my day with an inspirational read is a must.
Crystals
I never thought I'd be that girl with a windowsill full of crystals. I visited a photographer friend in LA a few months ago and we bonded over our love for crystals and oils and she sent me away with a Celestine wand as a parting gift. She too had crystals on her windowsill and I loved how calm and welcoming her home felt. I placed mine there to remind myself of the sort of energies I want to manifest in my life.  A lot of people have been writing me on SnapChat asking about which crystals I have, so I will do a separate post with a breakdown on my complete collection. I've added a few more since this photo was taken.
Sage
If my energy is all over the place or very negative on any given day, (for whatever reason) I burn sage. Burning sage is one of the oldest and purest methods of cleansing a group of people, space, or person.
Aroma Therapy Diffuser
Aromatherapy is the practice of using natural oils to enhance psychological and emotional well-being. I have an aromatherapy diffuser that I use to mist my room with the scent of lavender, peppermint and/or rosemary. Lavender oils are really good when you want to have a good night's sleep and I find Peppermint makes me really alert and happy.  (P.S. I bought my aroma therapy diffuser from Best Buy but there are plenty on Amazon.)
Also candles give a really nice touch and make your room smell great.  I order candles from Gifts From A Virgo (they burn into massage oils) and I also have an Olive Blossom premium candle that makes my room smell like a luxury hotel. 
Bonus: A Photo Of My Girls + Affirmation
I'm not the type that has photos everywhere, but I did place a photo of me and some of my closest friends (who are also my support system) on my desk. I also have a prosperity mantra taped to the wall (tacky I know haha!). As you can see, my desk is a world map… It helps me put my jetsetting aspirations out into the universe. 
I've definitely noticed a shift in my energy and overall productivity ever since I decided to get my room together. The major exciting thing about it is if I decide to travel a bit, it wouldn't be hard to Airbnb or sublease the space until I return. I can now truly live the life of travel and wellness I've always wanted.
If you are feeling uninspired by your space, definitely consider giving it a revamp.  Inspirational pillows, shag rugs, floating shelves, lighting, soothing music (I have a sonos speaker), and the right color paint are all things that will help spruce up your space and give you the boost you need to get things done.
By the way, I haven't put up any paintings in my room yet. Once I do that, I will truly feel settled.
What are some things you've added to your room to create a happy space? 
Originally published May 20, 2017