My Interview With Houston's 97.9 The Box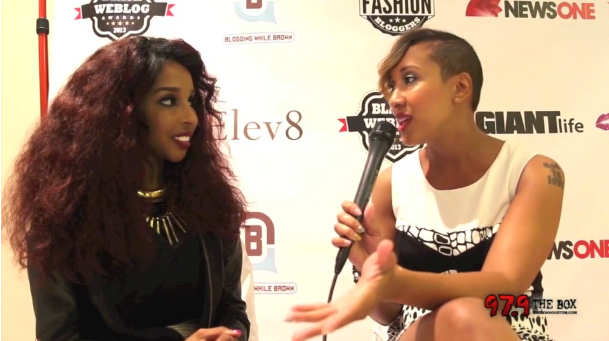 Shortly after the Black Weblog Awards in Houston earlier this month, I sat down with JJ of Houston's 97.9 'The Box' for some chit-chat on blogging.
Catch the highlights:
On why I don't bash celebs on my website
First of all, I know there are girls watching and they want to mimic what you do, and if you are out there bullying people, then they feel like it's cool and then they are going to want to bully people. I'm also getting older. When I first got into the game, I said what I wanted about people, and then it took me back to a place where people said things that weren't so nice about me, and I said [to myself], 'How did that make you feel?' Once you do that, you strive to do better.

I was having a conversation with my videographer earlier, and I said that I always think about my legacy. Nelly recently said that people, they choose what his legacy will be, and I don't feel that way. I feel like you can choose your legacy, and once you choose what you want your legacy to be, then you start acting accordingly. And it's all about how you want people to feel about you when you leave the room.

On my biggest accomplishment
I think my biggest achievement is when I'm out on the street and girls come up to me and they don't just say, 'I love your site' as in NecoleBitchie.com, they say, 'I love your story. I read your personal blog. You inspire me so much. That's when I feel as though my work here is done because to be honest, if it was about the celebrity gossip blogging, I would have quit maybe three years ago. I started losing passion after awhile. It takes a lot out of you to keep up with so many people lives, and you roll over and you're like, 'I want to be in bed with my boo, but I'm up here blogging about you and your boo.' [laughs] That's just how it is.

With me, it's always been about 'I need as many girls as I can to hear my story and see where I came from and to know [they can do it too.]' It's no excuses out here. You can do it, no matter what you put your mind and heart to. I had a vision and nobody could tell me I was going to fail. I knew I was going to make it.

On celebs
There is this whole spluge of celebrities on Instagram showing every body part they have. And it's top tier celebs. They have deals with corporate companies, and if they feel as though they have to do that, the people that are coming up under them that haven't even acquired half the fame, feel as though they have to turn up for attention. And I think we have to be a little mindful of the message that we are sending out there.

I'm no [better] if I'm posting on it the next day. It's almost like [networks], you are trashing the programming but you are putting it up there to get the hits.

On reality TV
Being a blogger, you see stars at their peak and you see them as they [come down off of that peak] and you don't hear from them again. People have to be mindful, there is life after this TV Show airs. What do I want to do with it?

On wanting to post more positive stories
It's hard because you want to do more and you want to do better, but you can't do it all by yourself. Even me saying, 'I want to make a change and do more positive stories on my site', and you hope that everyone else joins in and highlight more positivity as well, but if everyone's covering the junk and getting all of the hits..

On my personal life
If I could dedicate as much time into my personal life as I do my career, I'd be married with three kids by now. I've dedicated and sacrificed so much and that's why it does mean a lot to me when I do get honored because I've put my blood, sweat and tears into this, and I've sacrificed relationships, family, everything for this.

On why I think reading is important
I really gotta say this. I think reading is so important. I brought up the story of Oprah [in my speech] because after I saw Oprah for the first time on TV, I looked up all of her books and biographies, I watched all of her interviews and started to learn more about her. I think this young generation is so caught up in the social media, 140 characters that they don't read books anymore and I feel like books is what allowed me to see that there was a world bigger than the small town that I was from and that I could do whatever I wanted to, so I'm a big advocate for reading.

[Books became] my mentors. People always say, 'Hey, can you be my mentor??' My mentors, I've never met them. I looked at all of their YouTube videos, I've read all of their books and watched all of their words of wisdoms. Those are my real mentors. If you really want a mentor, they don't have to be physically communicating with you on a daily basis. Will Smith is my mentor and he don't even know it.
Watch it over at Houston's 97.9 The Box