Smartwater Dinner Honoring Idris Elba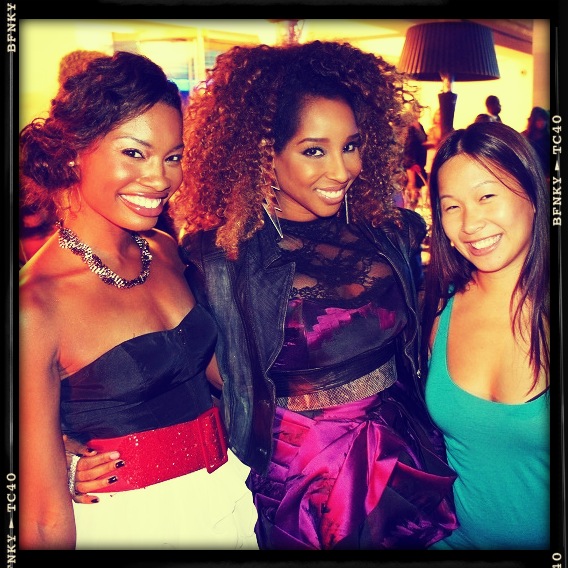 On Thursday Night, I attended a special dinner at the SLS Hotel for actor Idris Elba who just signed a huge endorsement deal with Smartwater!! He was also celebrating two Emmy Award nominations! My first introduction to Idris Elba was in 2004 when he played the popular character, 'Stringer Bell' on HBO's 'The Wire', so it is definitely amazing to see how far he has come over the past seven years.
I've been to plenty of dinners and events, but this one in particular was an experience.  The night started with a small networking session where guests sipped on champagne and h'ordeuvres for about an hour.  We were then summoned into the dinner area where we were served a three course meal that included a tomato watermelon salad, choice of picon cheese crusted beef tenderloin or sauteed black grouper (I chose the grouper of course) and a patisserie lemon tart for desert.  Next, there were mermaids who summoned us back inside. This time, there was a room with  two bars and a DJ. It went from dinner to Club Smartwater in less than five minutes with actor Tristan Wilds and singer/songwriter Frank Ocean taking over the dance floor to show the women how to 'Step'.
It was such a beautiful event with attendance by Steve Stoute (his agency Translations actually assisted in orchestrating Idris's Smartwater deal),  actress/comedian Kim Coles, comedian Aida Rodriguez, Joie Manda (VP Warner Music Group), fiilmmaker Cicely Saldana (Zoe Saldana's sister), CSI Actor Adam Rodriguez, Hot 97's Angie Martinez, Tristan Wilds, actor Lamorne Morris (star of Fox's new show 'The New Girl') and a brief appearance by Amar'e Stoudemire before the night was over.
Tristan and Lauren
How did we I get Frank Ocean to smile?
As you can see, I'm obsessed with Instagram 🙂