[I'm Featured In The Baltimore Sun] Maryland Native Makes A Splash As Celebrity Blogger Necole Bitchie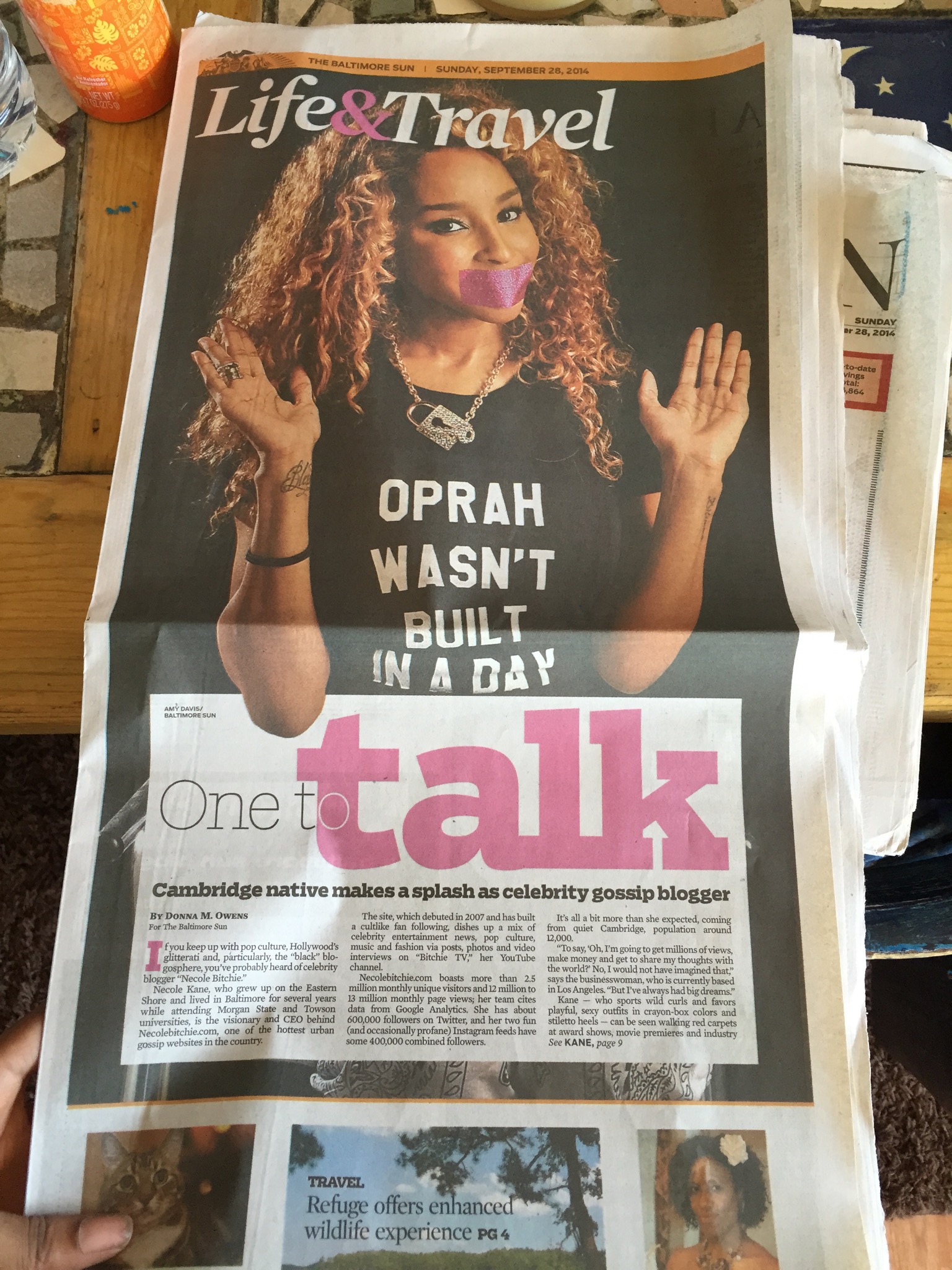 I'm back from hiatus.
I'll explain it all later.  In the meantime, the next few posts will be catching up.
First stop: The Baltimore Sun
————
I remember back in 2011,  Dan Morse from The Washington Post reached out to me through email and said he needed to speak to me.  Did they want to do a story on me? A small town girl with big dreams?
I immediately felt a breakthrough, because The Washington Post was one of the newspapers that was sold in my hometown.  To be featured would have been a dream.
I responded back to Dan, and immediately found out that he wasn't contacting me to do a write up on my celebrity blog, but instead had some tragic news for me.
I'll discuss that tragic news later…
It took three more years for me to get another call from a local newspaper. This time it was The Baltimore Sun (also sold in my hometown), and this time, they wanted to do a feature on me.  What I thought was going to be a small blurb, ended up being the cover story for the Life & Style section!!!
To see it in person was just…
Unexplainable.
Read it below:
Md. native makes a splash as celebrity blogger Necole Bitchie

If you keep up with pop culture, Hollywood's glitterati and, particularly, the "black" blogosphere, you've probably heard of celebrity blogger "Necole Bitchie."

Necole Kane, who grew up on the Eastern Shore and lived in Baltimore for several years while attending Morgan State and Towson universities, is the visionary and CEO behind Necolebitchie.com, one of the hottest urban gossip websites in the country.

The site, which debuted in 2007 and has built a cultlike fan following, dishes up a mix of celebrity entertainment news, pop culture, music and fashion via posts, photos and video interviews on "Bitchie TV," her YouTube channel.

Necolebitchie.com boasts more than 2.5 million monthly unique visitors and 12 million to 13 million monthly pageviews; her team cites data from Google Analytics. She has about 600,000 followers on Twitter, and her two fun (and occasionally profane) Instagram feeds have some 400,000 combined followers.

It's all a bit more than she expected, coming from quiet Cambridge, population around 12,000.

"To say, 'Oh, I'm going to get millions of views, make money and get to share my thoughts with the world?' No, I would not have imagined that," says the businesswoman, who is currently based in Los Angeles. "But I've always had big dreams."

The blogger — who sports wild curls and favors playful, sexy outfits in crayon-box colors and stiletto heels — can be seen walking red carpets at award shows, movie premieres and industry parties, and mingling with the likes of P. Diddy, Alicia Keys, Gabrielle Union and Ludacris. Out in Hollywood, she's become friendly with personalities like LaLa Anthony and Tyrese.

The site is updated with posts around the clock. A pic of Beyonce and Jay-Z on a yacht in some exotic locale? She's on it. A selfie of Kim and Kanye smooching in an elevator? Yep. J-Lo and rapper Iggy Azalea showing off their, um, assets in a video? Check and check.

Kane, has also snagged one-on-one chats with performers Nicki Minaj and Ciara and boxer Floyd Mayweather, among others, while the site's contributors have interviewed such celebs as Will Smith, Pharrell Williams, Robin Thicke, Kevin Hart and the late Joan Rivers, to name a few.

Kane herself was profiled with other hot bloggers in the May issue of Cosmopolitan, and has been featured in outlets ranging from The Huffington Post and CNN, to VIBE, Ebony Magazine and the "Tom Joyner Morning Show."

She was invited to go on the whirlwind 777 tour with Rihanna (seven shows, seven countries, seven days), and is part of the documentary that resulted. And she's racked up national blogging honors, including a 2014 nomination for "Best Hip-Hop Online Site," at the annual BET Hip Hop Awards. The show, which taped in Atlanta this month, is scheduled to air Oct. 14.

The blogger traveled back home to Maryland for her birthday in September. She opened up about her humble beginnings, the perks and pitfalls of covering celebrities, and trying to become as big as Oprah.

On life in a small town: "I was born and raised in Cambridge. It's tiny. I was the only child in my household, and most of my family lived within a five-mile radius. We were pretty broke, so we didn't travel out of state or things like that. But I did love reading books, and I was a good student. For many people in my community, the options were working in a pickle plant or at Wal-Mart. I knew I wanted to go someplace else and build a new life for myself."

School daze: "I had so much fun at Morgan but wound up transferring after about two years. In my senior year of college at Towson, I lost my mother, who had cancer. She hadn't told me anything until late in her illness. My father had died two years earlier. After my mother died, I was devastated. I dropped out of school."

Moving to Motown: "I moved to Detroit, where no one knew me, and started over. I got an internship at one of the big radio stations in town. I have an amazing work ethic, so within a few months I was promoted to a paid position in the promotions department. Music executives and artists would visit the station, and that's where I got my first taste of that world."

Big city blues: "In 2006, I quit my job to move to New York City because I wanted to live out my dream of working for a music label. But I was a small-town girl, very naïve and wide open. I was floating in the wind — I was temping and couldn't find a permanent job. I was forced to come back to Maryland and move in with my aunt. I had my mom's old Honda Accord but didn't even have enough money for gas. I felt so defeated."

Accidental blogger: "I started blogging partly as a way to cope with my grief. My aunt eventually kicked me out because she couldn't understand why I was on the Internet all day instead of looking for a job. Looking back, that was a turning point. I am very ambitious, and I knew my potential. I drove down to Atlanta. I was homeless for a while, basically sleeping on friends' couches. But I continued blogging. It was so new back in those days. No one knew where it would go."

A brand is born: "I was a fan of Nicole Richie and her TV show "The Simple Life." And [fellow blogger] Perez Hilton had done his play on Paris Hilton's name. So I came up with this persona of "Necole Bitchie." It's definitely an alter ego. On the homepage of my site, there's a photo of the quiet and nerdy girl being choked by the glamour girl.

"Executives at Def Jam, Interscope and Atlantic discovered my site when it was a baby — I think they thought it was way bigger than it was. They invited me to come and check out their artists, gave me concert access."

Blogging as business: "At some point, blogging became a real business. Compensation depends on your ads. A lot of money is at stake. There are agencies and blog networks, and while they help you make money, they take a percentage of your revenue — sometimes 50 percent. In 2011, I made a bold move and decided to leave the blog network. I brought the sales in-house, and a trusted family member handles that side of things.

"I have had to learn about contracts, collecting invoices from writers who contribute to my site, and avoiding lawsuits. New bloggers often Google images and post them, but if you don't have permission, the photo agencies will come after you. I have been sued."

Undercover celebrity: "I have access to celebrities, but I can walk into a room with them and feel really weird. Because I'm never really sure how they feel about bloggers. I was at a cookout this summer at the home of a celebrity couple. I would never invade the privacy of the people there by posting anything. Some celebs recognize me, and occasionally they get upset if I write something they don't like. I sometimes wish I'd never put my photo on my site. It's better sometimes if you can be anonymous."

Online manners: "When I first started blogging, the tone was more negative, but now I try to keep it positive. People get online, and they just slam each other. I don't tolerate that, period. I don't have time to respond to every publicist, and some of them think I don't like them, but I know what works for my audience. About 70 percent are women; 40 percent are ages 18 to 24. I'm trying to entertain them, but I also try to inspire them. They should feel like they're getting news from a friend."


Big dreams: "I'm busy expanding my lifestyle brand. I just collaborated with CupCake Mafia in Atlanta on a line of T-shirts called The Dream Chaser collection. It will be sold online, and available as of Oct 1.

"I want to do so much — the model is what Oprah has done. God doesn't let me become complacent. I like what Will Smith once said: 'Being realistic is the most common path to mediocrity.' "